Quick Fix Recipes
More Celebrating
Hallo,
Muttertag is over, Vatertag is on its way. That must mean summer's almost here and school is almost over! Definitely time to do some more celebrating.
Even though Vatertag has been a day that, in Germany, was looked down upon in the past due to its bad reputation as being a day set aside for drinking, it's starting to recover into a day where Dad is celebrated.
Curious about the background of Vatertag? Check out Father's Day in Germany and see how you can make it special for your special Dad/Hubby this year.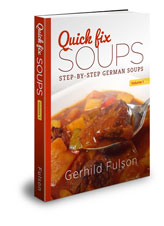 In order to keep with the celebrating theme, I've kept the special on the Oma's ebook Quick Fix Soups just a bit longer.

First, because some of our Dad's are fantastic cooks and deserve a special cookbook as a gift as well.

Second, because my second in the series of Quick Recipes websites is now up and running. Check out Quick Soup Recipes that's filled with lots of different kinds of soups, including some new German ones.

Why a website just about soups? Well, the feedback on the Quick Fix Soups ebook has been so overwhelming, I wanted to provide a place where soups of all kinds and from all places could be found.
What's New at Quick German Recipes?
The baked sausages above have become my simple way to make dinner when I'm in a hurry. It's a no-mess way to make lots. I put the potatoes and the broccoli in the oven as well. Love it when everything's done at the same time!
I've searched for a long time to find a recipe that makes a "German-style" rye bread using a bread machine.

Above, is the result. Taste? Not the soft, squishy rye breads one can buy in Canada, but a more substantial dense loaf, reminiscent of the types we had in Germany.

As well, you'll find many other new recipes posted on Quick German Recipes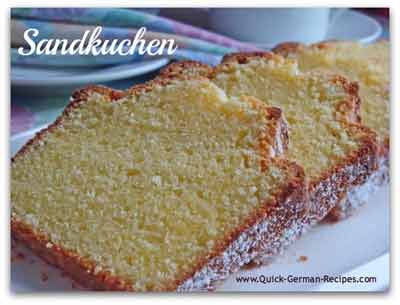 An example of a new recipe is for Sandkuchen which is a type of pound cake.

This one is so quick and easy to make. Sometimes, just dusted with icing sugar, and other times enveloped in a lemon icing. Both are great for your afternoon coffee.

I almost forgot! It's time for another celebration as well. My birthday!

I have a question for you:
Do you make your own birthday cake?
As mothers we always make the cakes for our kids and for our spouse. Somehow, making it for oneself seems, kind of, like, 'someone else should make it'.
However, I'm thinking I may make a Blitz Torte. It goes so fast and I do really love it.

Just for You!
Roswitha Seeman, my German friend, has been sending me quite a few special recipes that she recalls from her youth as well as when she was working in the Alpine Restaurant in St. Catharines, Ontario.

Here's one that I'm sure you'll enjoy. It's from her mother, a version of French toast that Roswitha had a lot as she was growing up.
Poor Man's Breakfast
Cube 2 cups of day old bread or end crust.
Gently brown in a heavy skillet with 1 1/2 tbsps. cooking oil over medium low heat, stirring constantly to prevent from burning.
Beat together 2 large eggs (or 4 small), 3 tbsps. milk, salt and pepper to taste. Pour this over slightly browned bread and stir well till egg mixture is absorbed.
Reduce heat to low and cover, continue to stir until well cooked. Do not burn.
Makes 2 servings.
Your Turn
Do you have any favorite recipes or photos to share? You can either post them directly to my website at Share your Favorite Recipe or post a picture and any information on our Facebook Fan Page for all the world to see!

Any questions? Just ask!
---
Well, that's if for now. I hope you're following all the news on my Facebook Fan page as well.

Be talking to you real soon,

Tschüss and keep cooking,
Gerhild Fulson


---
If you received this email forwarded from a friend, why not sign-up for your own monthly copy of Quick Fix?


---