Quick Fix Recipes
Let's Celebrate!
Hallo,
After all the April showers, our May flowers are starting to bloom. Daffodils are brightening my kitchen and I'm sitting here writing, almost not knowing where to start.
I first want to shout out a great big THANK YOU to YOU, my readers! This month we hit two milestones. 1,000 likes on the website Quick German Recipes and 1,000 likes on our Facebook Fan Page and the numbers are rising steadily. Thank You! Danke!
Mother's Day Gift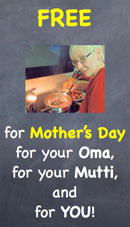 Mother's Day is almost upon us.

Definitely a time for flowers, chocolates, and dinner, as well as other more personal and interesting presents!

I've been working on a new ebook, Top 10 German Recipes, in order to have it ready to include for our Mother's Day special offer. I can happily say, "It's READY!"

Check out the Mother's Day special which includes this free download, along with others.

The Top 10 German Recipes ebook contains step-by-step recipes and instructions for the Top 10 searched for German recipes on the Web.

I was surprised by what was on this Top 10 list.

The desserts far outnumbered the other types of recipes. We Germans do love our cakes and desserts, don't we?

And looking at the following pictures of palacinkes, cheesecake, and plum cake, this newsletter seems to agree.

I hope you've been following us on Facebook. It's becoming a place for everyone to share and get answers quickly, from each other as well. So, when you cook German, get out the IPhone or camera, click, and post. Even non-German foods are great to share :-)

Here's an example of a non-German photo/recipe that was shared and went viral!
Palacinke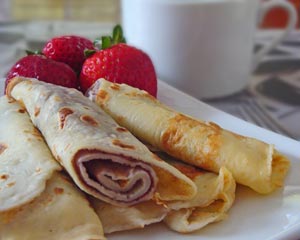 This was sent in by Melania Orasch of Hamilton, Ontario, Canada. It is posted under "Meal Ideas - International" as the recipe comes from Austria.
Palacinkes are a type of crepes suzette and is similar to those made in Germany as well.
Here they are spread with jam, served with fresh fruit and whipped cream on the side. Totally WUNDERBAR!
I also mentioned on our Facebook Fan Page that I'd be sharing a really special recipe, but only with those special fans who have subscribed to my newsletter -- and that's YOU!
It's a recipe sent in by Roswitha, whom you met in last month's newsletter. Her fruit tart, Obstkuchen, was such a hit, with both our website and facebook followers. This month, she is sharing her cheesecake recipe.
This is her version of the original recipe which came from The Alpine Restaurent, St. Catharines, Ontario where Roswitha worked many years ago. As she says, cheesecakes need to be made from scratch. It's the way they SHOULD be made. I think you'll agree with me when you taste this.
Rose's Cheesecake
Ingredients:
2 1/2 cups graham wafer crumbs
1/2 cup sugar (optional) (I omitted this as well)
1/2 cup melted butter
5 eggs, separated
1/4 cup sugar
1 lb cream cheese ( 2 x 8-oz packages)
2/3 cup sugar
3 tbsp lemon juice
1 tbsp grated lemon rind
1/4 cup flour, sifted
1 tsp vanilla
1 cup sour cream
Instructions:
Preheat oven to 325 F. Grease a 9-inch springform pan.
Mix together the graham wafer crumbs, optional 1/2 cup sugar, and melted butter.
Press 3/4 of mixture evenly on bottom and sides of pan, reserving remaining crumbs from topping. (Rose cut the amount of crumbs to 3/4 cup with 3 tbsp. butter, I cut it to 1 1/4 cups crumbs and 1/8 cup butter. You choose how 'crumby' you want your cake.)
Whip egg whites to form moist peaks. Gradually add 1/4 cup sugar, beating till stiff and shiny. Set aside.
Cream the cream cheese until softened. Beat in 5 egg yolks, one at a time until lemony color.
Gradually add 2/3 cup sugar, lemon juice, grated lemon rind, flour, vanilla, and sour cream.
Blend all together well until smooth and creamy. Fold in egg whites.
Pour into prepared pan and sprinkle reserved crumbs to form ring on top. (I used all the crumbs on the bottom!)
Bake for 1 1/4 hours or until set. Knife should ome out clean if inserted. If not, shut off oven and leave cheesecake in for another 15 - 20 minutes.
Take out and cool completely, gently tap sides of pan to loosen before removing springform side. Set on serving dish and top with fruit pie filling if desired.
Makes 12 - 14 servings.
I think you'll agree with me that it looks scrumptious. I'll tell you that it tasted scrumptious. Even though the recipe looks long, it went fairly quickly. Roswitha suggests a household tip that really applies for this recipe.
She says, "When I bake or cook for a crowd or a couple guests, I save time by taking out all my required ingredients. Once I use them, I put them away immediately. This way I know I have used all the ingredients in the recipe. I also have a sink full of sudsy water. That way, any utensils no longer in used, are put in the dishwater and washed right away. No pile of dirty dishes."
Grandma Fulson's Plum Streuselkuchen
I mentioned on the Facebook Fan Page that my niece, Melissa, found an old photo and sent in the recipe for Grandma Fulson's Plum Streuselkuchen. You'll find the recipe posted on my website as Grandma's German Plum Cake.

I'm eager to get my hands on this season's first purple plums and make this as well. I do so remember having this sitting in my mutti-in-law's lovely backyard, enjoying this with freshly whipped cream.

If you get a chance to make it before me, please do send in your pictures as well. I'd love to share them.
Hasselback Sweet Potatoes
So, to prove that we also like other types of foods, here's a photo of my version of Hasselback Sweet Potatoes that I served with a German meatloaf and roasted asparagus.
Your Turn
Do you have any favorite recipes or photos to share? You can either post them directly to my website at Share your Favorite Recipe or post a picture and any information on our Facebook Fan Page for all the world to see!

Any questions? Just ask!
---
Well, that's if for now. I hope you're following all the news on my Facebook Fan page as well.

Be talking to you real soon,

Tschüss and keep cooking,
Gerhild Fulson


---
If you received this email forwarded from a friend, why not sign-up for your own monthly copy of Quick Fix?


---