Quick Fix Recipes
Newsletter Issue #27 - March 4, 2013
Easter Ideas
Hallo,

Winter's almost over in this part of Ontario, Canada, where I'm writing from. Over, I hope. Pussy willows have their furry coats on and Easter's on it's way.

That means it's time to do some Easter menu planning. Easter desserts were always a big thing at our house. My Mutti would bake a 'bunny-shaped' cake in a special 3-D mold. The cake bunny would sit on a bed of green 'grass', surrounded by candies.

Then there were the Easter cookies and some kind of torte. Everything decorated and very festive.
Blowing out raw eggs in order to create beautiful egg trees was my sisters' and my jobs.

We'd poke a hole with a sharp knitting needle in both ends of the raw egg.

Then, leaning over a bowl, we'd start to blow. And blow. And blow. It was hard work, but fun.

After that, Mutti would put the egg shells aside for a couple of days to dry out.

And after that, came the fun part of dyeing them and painting them and hanging them.

In the meantime, the baking started. We'd now have lots of raw eggs that needed to be used. Recipes that used whole eggs (not just whites or yolks, because it was a mixture in our bowls) were sought out.

We'd make our regular recipes, but often tried to include something new.

These were traditions I passed on to our boys as they were growing up. Now, they, too, have left the house, and it's time to share some of these with our granddaughters.

As far as blowing eggs, I showed them how to blow hard-boiled eggs. Yes, it can be done. In fact, it's a quick way to peel them. Not sanitary, but fun if you're going to eat the egg yourself. And fun, if you're just having fun with the grandkids!

Just hard boil the eggs. Remove a bit of peel from both ends of the egg. Now, hold firmly to your mount and give one hard blow. The hard-boiled egg will pop out of the shell.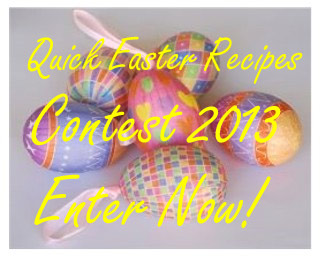 Take a look at these pretty eggs under the words. One can be very creative when painting the eggs. Decorate with ribbons as well.

Now, take a look at the words.

That's right. It's time for our Easter recipe contest.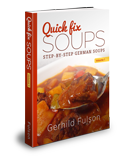 Check out Quick Easter Recipes and see how to enter and what the prize will be.

I'm also starting to work on my next book. It will complement Quick Fix Soups with its 84 full-color pages with step-by-step instructions, hints, "Oma says" and "a bit of this and a bit of that" sections to help you re-create those home-style soups you remember from your Oma and Mutti.

As you go to the website, you'll see it looks completely different. I'm still in the process of changing the recipe pages. It will be a long process, because each recipe needs to be done manually.
I'd love to hear your comments on what you think. And, do let me know if there's anything you think could be improved. Is there a better way to help you find what you're looking for?

While I'm doing that, I checking the recipes over, re-writing where necessary. Adding tips that I've received from readers. Adding extra pictures. Making the site more user-friendly.

But for now, it's Easter that's around the corner.

With the Easter contest underway, Susan from Manitoba, Canada, sent in a submission I'd really like to share with you. It's for Paska . . . Easter Buns.

Susan's recipe is a very easy one, using whole fruit, that's put in the blender, peels and all. It's a must-try for this Easter!

Kendra sent in this recipe for Key Lime Pie. It's not German, so it's under the International Foods section. With its pretty green color, it would look pretty on an Easter dessert table amongst the German desserts.
Roswitha is one of our regular contributors of recipes. Her Fruit Tart or Obstkuchen was a real hit at our last family gathering.

The one pictured below was made with blueberries, but I'm looking forward to trying it with Spring's first rhubarb.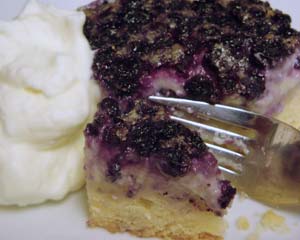 Easter Dinner
For Easter dinner ideas, check out Easter in Germany. The usual traditional items are given.

If you're looking for something a little different as a side dish, then try Roswitha's Green Beans in Soya Sauce. Doesn't sound German, does it? Well, it is amazing how there's a mixing of cultures when Germans cook. It's hard to tell after a while where tradition and traditional start.
Roswitha's Green Beans
Ingredients:
3-4 cups green beans, (washed, ends picked off and halved)
1 large onion, chopped finely
3 tbsps. cooking oil
3/4 cup water
soya sauce to taste
instructions:
In a skillet, heat oil over medium heat, add chopped onions and cook till transparent.
Add the green beans and stir till beans are coated with oil and onions. Add the water, cover and cook over low heat until tender.
Shut off heat, add 2 tbsps. soya sauce or enough to suit your taste to the beans. Toss well, cover and let stand for 15 minutes. Toss occasionally to make sure all the beans have absorbed the taste of the sauce.
Makes about 2-3 servings.
Hints:
*Yellow beans can be used as well, but it will not have same taste as the green beans.
It makes a nice side dish for rice and chicken. Roswitha writes, "This recipe my mother at one time or another created on her own. Her resourcefullness in the kitchen sometimes brought out feasts that would suit the king's and queen's table . . . I used to love watching her cooking and singing."

Another great side dish is one my granddaughter, Lydia and I created together. Again, German? It fit our German taste-buds!

Yes, that's Lydia, my youngest granddaughter. At 11, she's made these Twice Baked Potatoes. They were a hit!

They came out of the oven puffed, and then, a few minutes later, poof. Deflated. BUT, they were delicious! No leftovers!

All right, then. That's it for now. Time to get busy planning this year's Easter dinner. Time to get busy baking and trying out some new recipes.

Don't forget to submit your Easter recipe!

---

Be talking to you real soon,

Tschüss and keep warm,
Gerhild Fulson



---

If you received this email forwarded from a friend, why not sign-up for your own monthly copy of Quick Fix?



---