Quick Fix Recipes
Newsletter Issue #23 - December 11, 2012
Christmas Ratze Fatze Recipes
Hallo,

"Ratze Fatze" are those quick recipes that help you get out of the kitchen FAST, yet they're recipes you do over and over again because they're so GOOD.

I started last month telling you about Cayen and sharing a few of her "ratze fatze" recipes she gave me during our stay at her "Ferienwohnung" this past summer in Sterdebüll, Germany.

I'm adding a couple of her recipes this month that would be great for the Christmas table. But before I start, I have two important announcements to make:
Winner of the Quick Christmas Recipe Contest
The grand prize, a Canon PowerShot A800 Camera, goes to . . .

Christel Schmidt from Campbells Bay, P.Q, Canada. Congratulations, Christel! Your two recipes, Rolladen (rolled stuffed steak) and the Egg Nog, were tops on our list.

I just love Rouladen and Christel has an interesting twist on them (tomato paste). The Egg Nog sounds really simple and really quick; the only problem might be storing it for a year.
Christel's Rolladen
"This was what our mum would make every Christmas Eve. We still carry this tradition on."

Ingredients:
8 thin round steaks
1/2 small tin of tomato paste
1/2 c. dijon mustard
12 slices bacon cut in half
black pepper
2 medium onions quartered
4 small dill pickles cut in half
Instructions:
Spread tomato paste on each steak and top with dijon mustard.
Place 3 pieces bacon strips on top. Sprinkle with black pepper.
Place a piece of pickle and a piece of onion at one end and roll up, securing with toothpick or string.
Brown on all sides in pan with a bit of oil.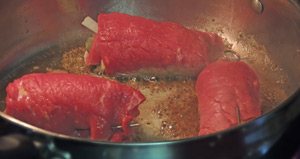 When all sides are browned, cover with water, bring to boil, turn temperature down and simmer 1 hour (covered) till meat is tender.
Remove Rolladen from liquid, taste, add salt if needed and thicken with flour and water. Makes a delicious gravy.
Serve with Rotkohl (red cabbage) and Kartoffel Klösse (potato dumplings)

Guten Appetit.
---
Christel's Eier Likor (egg nog)
"The longer this sits, the better it gets. Our Oma used to make this after Christmas for the following Christmas. Store in a cool dark place."

Ingredients:
8 egg yolks
200 (1 cup) grams sugar
1 pkg. vanilla sugar
1/2 liter (2 cups) Brandy
Instructions:
Beat yolks with sugar and vanilla till doubled in amount
Gradually beat in Brandy
Pour into clean bottles
Prosst.
Coming Soon . . .
The second announcement is that my first book, Quick Fix Soups is almost ready. Keep a watch out for an email soon on its way to you, letting you know how you can be one of the first to get your copy. Since it's about Quick Soups, it's great for that busy schedule when you need something nourishing and quick.
Ratze Fatze Christmas Recipes
Cayen's Nusskranz (nut wreath)
Ingredients:
Cake
3 cups flour
2 tsp. baking powder
1/2 cup sugar
1 egg
1 tbsp milk
1/2 cup butter
Filling
7 ounces ground nuts
1/2 cup sugar
1 egg white
4 - 5 tbsp. water
1/2 tsp almond flavoring
Instructions:
Preheat oven to 350 F
Mix all the cake ingredients together in order until well mixed.
Roll out on a lightly floured surface to 13" x 18" rectangle.
Mix the filling ingredients together and cover cake. Roll up cake and place into a wreath (ring) shape on a greased or parchment covered cookie sheet.
Brush with beaten egg yolk. Slit top slightly.
Bake for about 45 minutes or until nicely golden.
Cayen's "Kirsch-Sandtorte" (cherry pound cake)
Ingredients:
3 1/2 ounces butter
3/4 cup sugar
1pkg. vanilla sugar
3 eggs
1 1/2 cups flour
1 tsp. baking powder
1 tbsp cocoa
1 jar sour cherries, drained
cinnamon and sugar to sprinkle over top
Instructions:
Preheat oven to 350 F.
Cream butter and sugar. Add vanilla sugar.
Mix in eggs thoroughly, beating well after each one.
Mix flour, baking powder, and cocoa together. Add to butter mixture.
Gently stir in drained sour cherries.
Pour batter into greased an floured loaf pan.
Sprinkle cinnamon and sugar on top.
Bake for about 30 minutes or until wooden toothpick poked into center comes out clean.
Place pan on wire rack and let cake cool for 10 minutes before inverting pan to remove cake. Let cake cool on rack before serving.
---
Perhaps you have some "ratze fatze" recipes that you'd like to share. Just send them in and I'll post them. Please include any information you have about the recipe, pictures would be great, and where you got the recipe so proper credit can be given.

That's it for now. I have only one more soup to make for photos for Quick Fix Soups: Roasted Cream of Wheat Soup. Don't know what that is? Gebrannte Griess Suppe is its German name. It's what my Mutti often made for us when we were little. It's a tradition I carried on with my boys when they were little. It's one of those super quick, super easy, and very inexpensive soups that was passed on from Oma to Mutti to me.
---
Here's something a bit different. Have you ever thought of having your own cooking website? Or perhaps a crafting website? Or a . . . . website? It's fun to do and it provides you an income.

Then check out the offer below. SBI is how I created the Quick German Recipes website. You don't need to have any prior knowledge of website building. It's a great teaching tool for teens to seniors+. What a great gift to give and to keep.
In the meantime time, enjoy getting ready for Christmas. Start baking if you haven't already done so. But, take time to enjoy the wonders of God's creation, especially at this wonderful time of the year.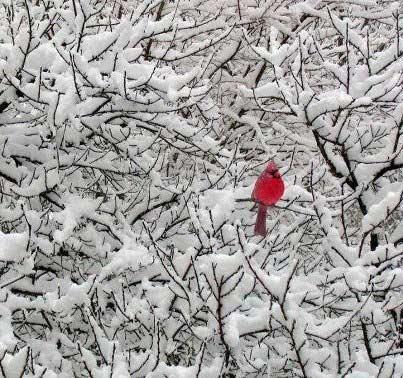 Be talking to you real soon,
Tschüss!
Gerhild Fulson


---
If you received this email forwarded from a friend, why not sign-up for your own monthly copy of Quick Fix?


---