Quick Fix Recipes
Oktoberfest 2013
Hallo,
It's that time of year. Oktoberfest. September 21 to October 6.
Party! German food! Beer! Fun!
Are you ready?
Join in the fun and be part of the most famous, world-known event that's celebrated, not only in Germany but in other parts of the world as well.
Right around the corner from where I live, one of the largest is held in Kitchener, Ontario, Canada. What started as a marriage celebration for Crown Prince Ludwig and Princess Therese of Saxe-Hildburghausen on October 18, 1810 in Munich, Germany has become a rocking, music-filled, 'food and drink' fest that celebrates Bavarian cuisine and culture.
Most people, if asked what Oktoberfest is about, will say, "food and BEER!"
But, there is more than that.
Bavarian culture is celebrated with a huge parade of about 8,000 people dressed in traditional costume, a 12-gun salute, and of course, the tapping of the first beer keg by the Mayor of Munich.
Over 6 million visitors consume over 7 million litres of beer in tents that hold up to 10,000 people! With traditional 'om-pa-pa' and modern music, the festivities are loud and boisterous.
Can't get to Munich or Kitchener?
You can celebrate Oktoberfest right at home. Put on some German music. Decorate your table and room with the traditional Bavarian colours of cobalt blue and white. And serve up your own traditional foods.
Oktoberfest Foods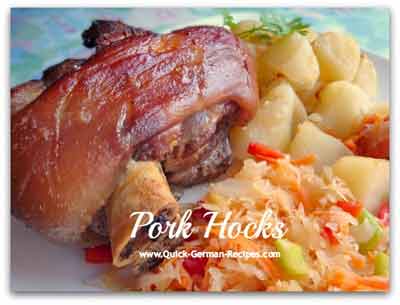 Pork hocks made in this traditional way taste so good. You'll love these served with sauerkraut and mustard on the side.

Here's something that is so German, so delicious, so traditional.

Pretzels. Crispy on the outside, yet soft on the inside.

To get the traditional 'outside' crust, use the simple method given here.

Serve these pretzels with a variety of mustards, especially German mustard if you can get it. A honey mustard dipping sauce would also be great.

A new 'traditional' German food is currywurst. This new fast food is fast becoming a national dish. Created in 1949 by Herta Heuwer in Berlin by mixing ketchup, curry powder, Worcestershire sauce, and other spices and pouring it over grilled sausage, this is now become an icon of German culture.

Even though the currywurst is not a 'Bavarian' food, it would still be a great addition to your Oktoberfest party. Here's a simple version to make at home.
Homemade Curry Ketchup
Ingredients:
1/2 cup ketchup
1/2 cup mayonnaise
1 tsp curry powder
1/4 onion, finely chopped
Instructions:
Mix everything thoroughly and refrigerate.
Simply fry almost any type of sausage (you can use Oktoberfest sausage if you can get it) and serve it, slathered with curry ketchup and the dusted with more curry powder.
More Party Foods
Here are some other easy additions for your party:
Grill bratwurst-type sausages and cut into pieces to serve with toothpicks. Provide various mustards.
Small crusty buns, rye crackers, rye bread crustini, whole grain breads.
Platters of German cheeses, pickles, grapes.
Skewers of sausage or ham and German cheese.
Trays of German cookies and sweets. Perhaps an easy version of the traditional Black Forest Cake.
Along with the traditional beers, make sure you include Apfelschorle.
Check out my Oktoberfest section of the website for more information about this celebration as well as more food ideas.
What's New
I've been busy posting all sorts of new recipes, both on Quick German Recipes and my other website Quick Soup Recipes. Sometimes there's an overlap, as in this example of cauliflower soup.
This was a new soup for me. It came from a very, very old German recipe. When my hubby tried it, his comments were, "Hmmmm ... this is GOOD!"

I will definitely be making this more often. It would be a great starter course for a dinner party.

Staying with the cauliflower theme, I made it the way, actually the only way, my Mutti made it. She served it very simply, just boiled and sprinkled with buttered bread crumbs.

Because this was an expensive vegetable to buy, Mutti didn't make it very often. It had the 'air' of elegance for us. Whenever I have it this way, it always brings back memories of Mutti cooking her special meals.

Why not try it this way as well? I think you'll like it.
We were gone most of August, visiting our son and daughter-in-love in England. Had a marvellous time. No cooking. Just lots of hiking, talking, and eating!

So, when we came back, I was ready to dive into some baking. First thing out of my oven was this German Pineapple Cake. It's a southern twist to a classic. It was great because I wanted something quick, yet deliciously delicious!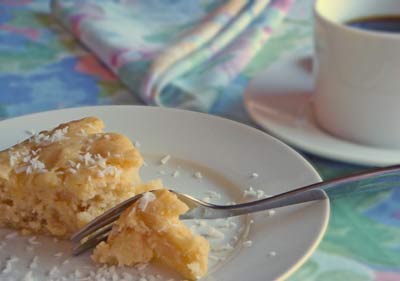 I needed to make a dessert to take along to someone who is vegan. So, I tweaked one of my brownie recipes and came up with this one, a treat for vegans and non-vegans alike. So good. So non-German! BUT, tastes so German with its hint of almond flavouring. Try this one, too. You'll like it as well!
Here's another delicious veggie: Mushrooms. Fried mushrooms. Fried Mushrooms in Cream Sauce to be exact. Very German. Very rich. Very delicious. Do try this!
Here are two more soups that have become additions to our household. Sweet Potato Soup (not very German) and Cream of Potato Soup (German style). Great additions to your fall menu!
Just for You!
Here's a recipe, just for you subscribers to Quick Fix. It's a German Rice Salad, a great side dish to grilled sausage.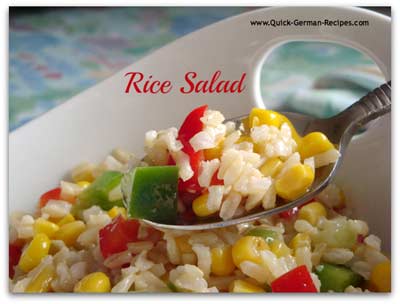 Ingredients:
1 1/2 cups uncooked brown (or white) rice or 3 cups cooked rice
1 small can drained corn
1/2 green pepper, diced
1/2 red pepper, diced
3 green onions, sliced
1/2 cup frozen peas (optional)
Dressing Ingredients:
1/2 cup (light) olive oil
3 tbsp lemon juice
2 tsp sugar
salt, pepper
Instructions:
Cook rice as per package instructions OR use my method
Mix rice and veggies together in a bowl.
Mix dressing ingredients together and pour over rice mixture. Stir. Season with salt and pepper.
Makes 4 servings.
Your Turn
Do you have any favorite recipes or photos to share? You can either post them directly to my website at Share your Favorite Recipe or post a picture and any information on our Facebook Fan Page for all the world to see!

Any questions? Just ask!

In fact, here are two questions that are waiting for more answers. I'll post them here, just in case you're not on FaceBook yet.

Cindy Swart asked:

"So my husband and I used to eat at a German Restaurant in Omaha NE and they made the salad - little lettuce, sliced tomatoes, green beans, sliced onions all separated on a place and this dressing to die for. We have never been able to find it. Can someone please help me? Or at least tell me what to put in the dressing?"

This reminds me of the absolutely delicious salads we enjoy on our trips to Germany. You can answer this at Contact Me or on Facebook.

Lauren Parsons asks.

"I have a couple of johannesbeeren (red currant) bushes in my yard, and I am looking for some good recipes to use with them. Can you help? Bitte?"
---
Well, that's if for now. I hope you're following all the news on my Facebook Fan page as well.

Tschüss and guten Appetit,
Gerhild Fulson


---
If you received this email forwarded from a friend, why not sign-up for your own monthly copy of Quick Fix?


---