Quick Fix Recipes - "G"
Hallo,

"G" is our letter this month as we travel through our series on Germany from "A" to "Z".

We're checking out some "G" places in Germany, meeting some "G" people, learning some "G" words, and most importantly, featuring some "G" recipes!
"G" Places
We're going to three places, starting with "G", two of which are in the TOP 100 sights and attractions in Germany according to the 2013 survey from the German National Tourist Board* and the other one is just a bit different - a little place we visited!
1. Garmisch-Partenkirchen
If you're thinking snow in Germany, you're thinking Garmisch-Partenkirchen! With seven months of snow, Germany's only glacial ski area has long been the number one winter sports venue with skiing, snowboarding, freeriding, and hiking. The Zugspitze, the tallest mountain in Germany, is just south of Garmisch and straddles the border with Austria.

Not into winter sports? That's OK. Even non-mountaineers can reach to top of the Zugspitze with the cog railway that brings one up to an altitude of almost 3,000 metres to take in the magnificent panoramic views as well as a huge modern art gallery - near the top of the peak!

Want something more relaxing? This is also the place for first-class health resorts to pamper and unwind. Of course, there are first-class restaurants, night clubs, discos, and shopping ... good old-fashioned Bavarian hospitality in all forms.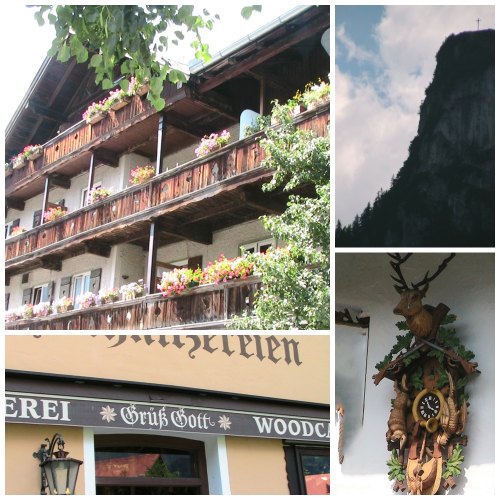 Above are some of the places in Garmisch that we visited. Love the balconies with all the flower boxes, the Black Forest Cuckoo clock, and the crosses on top of all the highest places in the area.

Take a look at the greeting above the store, "Grüß Gott" (literally "Greet God"), that's said as a "Hi" and "Bye" in southern Germany.


2. Goslar
Now known for its regional shopping for the Harz region, the weekly market, the popular conference venue, and the booming tourism sector, this town has an interesting past.

1988 marked the end of more than 1,000 years of virtually non-stop mining! On the outskirts of the city, the Mines of Rammelsberg were once the largest interconnected repositories of copper, lead, and zinc ore in the world, producing almost 30 million tonnes of ore.

In order to provide energy for the mining, one of the largest pre-industrial power supply facilities that included 107 ponds, 310 km of ditches and 31 km of waterways, was built.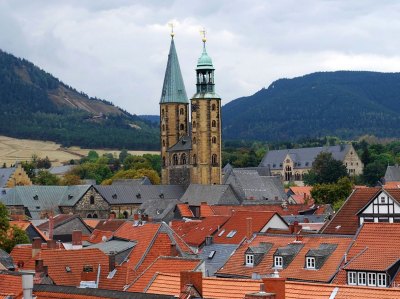 Now, this is all part of the World Heritage site ... which also includes a Romanesque palace and towers of the forty-seven churches and chapels.

(Photo courtesy of Wikipedia)


3. Gengenbach
Gengenbach is a little town at the western edge of the Black Forest ... with a population of only about 11,000 ... just a quaint little German town. Nothing special as far as many are concerned ... but so pretty!

There is a picturesque medieval town centre "Altstadt" that has something very unusual. The town hall has 24 windows. The advent calendar has 24 windows. This little town is, therefore, the proud owner of the world's biggest advent calendar!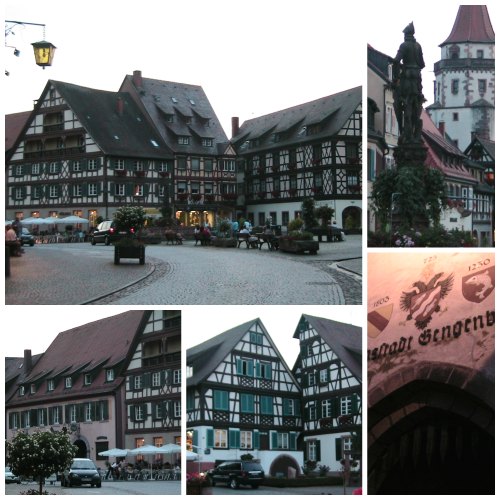 We visited Gengenbach in 2006 and had a wonderful time strolling through the town in the late evening ... just before sunset. We don't have any photos of the 'advent calendar' ... no one told us about it! That will have to wait till our next visit!


"G" People
Some famous "G" Germans:
Johann Wolfgang von Goethe (1749–1832) author, poet
Brothers Grimm famous collectors of fairy tales. Jacob (1785–1863) and Wilhelm (1786–1859)
Carl Friedrich Gauss (1777–1855) mathematician
Johannes Geiger (1882-1945) co-inventor of Geiger counter
Johannes Gutenberg (1398–1468) inventor of modern bookprinting
"G" Words
Want to learn some German?

Here are some common "G" words that you can use when you're cooking.
Gabel - fork
Gans - goose
Garnelen - shrimp
Garniert - garnished
Gebäck - baked goods
Gebacken - baked
Gebraten - roasted
Gedünstet - braised
Geflügel - poultry
Gefüllt - stuffed
Gehackt - minced
Gekocht - cooked
Gemüse - vegetables
Gerieben - finely grated
Getränke - drinks
Gewürze - spices
Glas - glass
Griess - semolina
Grünkohl - kale
Gulasch - stew
"Guten Appetit" - "Good appetite"
"G" Foods
1. "Gulasch"
There are so many different spellings for this very traditional dish. There are also so many different recipes for it. The one pictured here was sent in by one of our readers, Anna Hanssen.

What makes this recipe so fantastic is that it's made using a slow cooker. If anyone knows me, they know I love using my slow cooker!

Give Anna's recipe a try. You'll like it!


2. Goulash Soup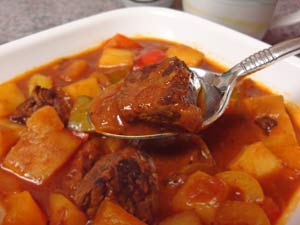 Let's stay on the gulasch theme and make it into a soup this time. Here's a goulash soup that I posted on my Soup website.

It's such an easy satisfying dish to make. I love making it for company ... especially when they are looking forward to a German meal.

I make some fresh artisan bread to go along with it and it's a feast fit for a king!
3. Green Beans, Pears, and Bacon
Here's a very traditional stew from the northern part of Germany, particularly around Hamburg. Known as Bohnen, Birnen, und Speck it's a filling supper when served with some fresh bread.

Ingredients:
1 pound green beans, fresh or frozen
1 pound firm pears, peeled and cut into 1/4 inch slices
1/2 pound bacon, cut into 3/4 inch cubes
1 tsp salt
1/2 tsp dried summer savory
salt and pepper as needed
Instructions:
Put all ingredients into a large saucepan, adding 1/2 cup of hot water.
Bring to a simmer. Cover, and cook on low for about 45 minutes.
Season with extra salt and pepper as needed.
What's New at Quick German Recipes
Here are some of the new and/or up-dated recipes that have been added to the Quick German Recipes. I've been redoing some recipes from earlier on, re-photographing them, and making additions as needed, especially including comments from others who have made them.
"Belegte Brote" or "covered breads" are such a great idea for summer parties and buffets. Take a look at these lovely photos that my Hubby took while he was in Germany.

Make your own using these as examples and these best sandwich recipes.


While my Hubby was in Germany, I needed something easy to make. This baked pork chop with sauerkraut was just perfect. It made lots (so I didn't have to cook every day) that I could easily reheat.

Sauerkraut is sooooo German, so even though I wasn't with him, I could pretend! Do make these Baked Pork Chops with Sauerkraut if you're feeling at all German!


I tried. I really tried. I tried to eat no carbs while hubby was gone. This crustless spinach quiche was a real winner! Only 2.5 carbs per serving! Delicious and easy. Perfect if you're on a low-carb kick ... and even if you're not.

Don't think this is German? Check it out; it really is!


Your Turn
Do you have any favorite recipes or photos to share? You can either post them directly to my website at Share your Favorite Recipe or post a picture and any information on our Facebook Fan Page for all the world to see!

Any questions? Just ask!
---
That's it for now. I hope you're following all the news on my Facebook Fan page as well.

Tschüss and guten Appetit,
Gerhild Fulson



*German National Tourist Board Website
---
If you received this email forwarded from a friend, why not sign-up for your own monthly copy of Quick Fix?


---