Just like Oma's - "R"
"R" is our letter this month as we travel through our series on Germany from "A" to "Z".

We're checking out "R" foods, going to some "R" places in Germany, meeting some "R" people, and learning some "R" words!

There's more than just "R" in this newsletter. Mother's Day is just around the corner, so check out that section near the bottom of the page!
"R" Foods
1. Roggenbrot (Rye Bread)
I love it when I can make this in my bread machine and it turns out so good. This recipe uses a mix of flours to give you an authentic tasting German bread.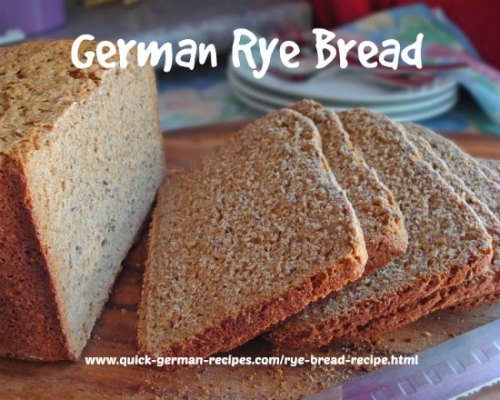 So easy to make. Check it out!


2. Raspberry Torte
Heidi's Raspberry Torte is a great example of a quick German recipe that's so pretty and super delicious! Here she's made it with a mix of raspberries and blueberries. Wunderbar!

For a super easy and pretty cake, make this!


3. Rouladen
The most loved traditional food in Germany ... Rouladen. Together with potato dumplings and red cabbage, these beef rolls are always a treat. A perfect meal for Mother's Day, as long as you don't forget the gravy!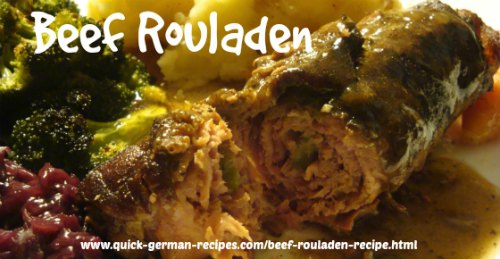 If my young granddaughter can make them, so can you! Check it out here!
"R" Recipe, just for YOU!
Rote-Bete-Suppe (Red Beet Soup)
Ingredients:
1 onion, chopped
1 lb red beets, peeled and cubed
⅓ lb potatoes, peeled and cubed
2 tbsp butter
4 cups vegetable broth
salt and pepper to taste
¼ cup heavy cream (35 %)
chives for garnish
Instructions:
In a large pot, heat the butter and add the onion, beets, and potatoes. Sauté for about 5 minutes.
Add the vegetable broth, stir, and bring to boil. Cover and simmer for about 30-40 minutes.
Use an immersion blender to puree soup. Season with salt and pepper.
Strain through a sieve and return to pot. Stir in heavy cream and bring to simmer.
Serve with chopped chives as a garnish.
Makes 4 servings.
"R" Places
1. Romantic Road
Travel this most beautiful and famous scenic road from Würzburg in the center of the Germany to Füssen in Bavaria, past fairy-tale castles, picturesque towns, historical abbeys, beautiful churches, and cozy inns. This 220-miles route showcases quintessentially German scenery and culture, and is perfect for those loving art, history, festivals, sports, and food!
2. Rothenburg
Along the Romantic Road, one stop that's a popular tourist destination in Bavaria is Rothenburg. Time stood still here for this small town is filled with many well-preserved buildings dating back to the Middle Ages.

Perhaps you'll recognize the settings for several Walt Disney movies, such as Pinocchio and Chitty Chitty Bang Bang?

A popular treat to search for in Rothenburg are their famous Snowballs … Schneeballen … fried pastry covered with confectioner's sugar or chocolate.
3. Regensburg
With 2,000 years of history (the Romans built a fort here around AD 90) and Germany oldest arched stone bridge (called the 8th wonder of the world in 1146), Regensburg's Old Town is listed as a UNESCO World Heritage Site and is dubbed as "Italy's most northern city".

Along with all the 'touristy' things to do and places to visit, there are over 500 restaurants, bars, and clubs just in the inner city as itself … perfect to try the cuisine and soak in the ambience of the best-preserved medieval city in Germany.
"R" People
Haribo and tea bags ... thanks to German "R" people!
Wilhelm Raabe (1831-1910), novelist
Adolf Rambold (1900-1996), inventor of modern tea bag.
Max Reger (1873-1916), composer
Hans Riegel, Sr. (1893–1945), founder of Haribo, the manufacturer of gummi and jelly sweets
Wilhelm Conrad Röntgen (1845-1923), physicist and discoverer of x-rays/Röntgen rays
"R" Words
Want to learn some German words to use in the kitchen?
Ragout - stew
Rahm - cream
Reh - deer
Reis - rice
Rettich - radish
Rezept - recipe
Rind, Rindfleisch - beef
Roggenbrot - rye bread
Rollmöpse - pickled herring rolls
Rosenkohl - Brussels sprouts
Rosinen - raisins
Rosmarin - rosemary
Rotkohl - red cabbage
Rouladen - meat rolls
The German Foodie Fans on my Facebook page suggested these as well:
Rinderbraten, Rote Beete, Rhabarber, Rumtopf, Rostkartoffeln, Raspel, Rebhuhn, reduzieren, Rippchen, reinigen, and Rote Grütze.
Oma's News …
It's almost Mother's Day!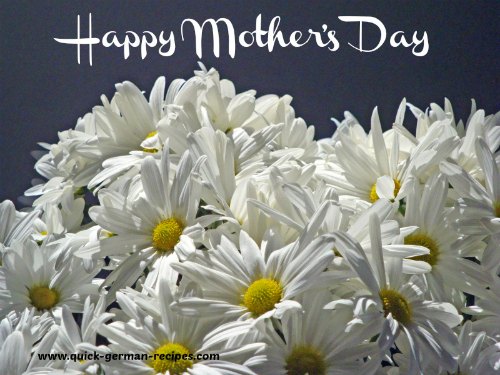 Many countries, including Germany, are celebrating Mother's Day on Sunday, May 10. Yes, flowers and chocolates are still the favorites, but making a special dinner for Mom would be WUNDERBAR!

Don't know what to make? Check this out and see what I'd make.

Need a gift for Mother's Day?

Something just a bit different for your daughter? Why not pass on your German culture with one of my e-cookbooks? They make a fabulous Mother's Day gift from a Mutti to a daughter (and even for yourself!) They'll help her (and you) cook just like Oma!


---
OK, that's enough chatting for today. I'm off to the kitchen. It's time to do some cooking! I hope you're following all the news on my Facebook Fan page as well.

Tschüss and guten Appetit,
Oma Gerhild



Have any favorite recipes or photos to share? You can either post them directly to my website at Share your Favorite Recipe or post a picture and any information on our Facebook Fan Page for all the world to see!

Any questions? Just ask!
---
If you received this email forwarded from a friend, why not sign-up for your own monthly copy of Quick Fix?


---