Just like Oma's - "Q"
Hallo,

"Q" is our letter this month as we travel through our series on Germany from "A" to "Z".

We're checking out "Q" foods, going to some "Q" places in Germany, meeting some "Q" people, and learning some "Q" words!

Before we start, I need to tell you something. The letter "Q" is not used much for these things! There's slim pickings here … but the foods are so yummy!

However, there's more than just "Q" in this newsletter. Easter's just around the corner, so check out that section near the bottom of the page!
"Q" Foods
1. Homemade Quark and Quarkkuchen (Cheesecake)
It really is easy to make quark at home. I use a yogurt maker, but it can be made in the oven as well. I list both recipes and then you can go ahead and make the traditional Quarkkuchen. So wunderbar!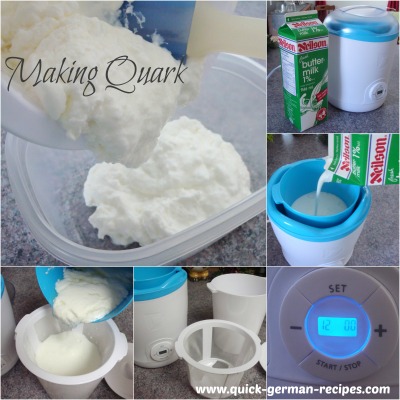 So easy to make. Click for both Quark recipes, make you own QUARK! ... you'll find the recipe for the cheesecake as well.


2. Quark-Öl dough for Pflaumenkuchen (Plum Cake)
If you're German, you may recognize the Quark-Öl dough … a dough that uses quark and oil in its ingredients. The resulting cake tastes like it's made with yeast … only it's quicker to make. I've altered the basic recipe to use Greek yogurt, just in case you forgot to make the quark above and you want to make the cake right now!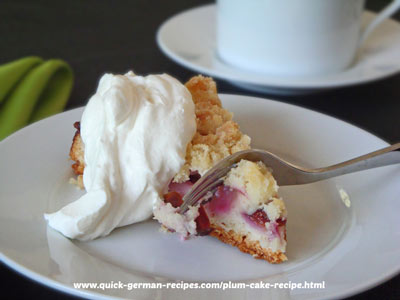 It makes a great base for a plum cake, but other fruits can also be used. This one's great with the kids (and grandkids) to helping. You'll find the recipe here.


3 Quarkstollen
Here's the Stollen I make for Christmas. Usually it's made with yeast, but this is the one my Mutti often made. Why? Because it's a lot quicker to make and it stays moist longer.

Traditionally, you use Quark for this, but since my Mutti didn't know how to make it here in Canada, nor did I until just recently, I've used cottage cheese instead. It works great and is so tasty. Why keep it just for Christmas?
Make it as a loaf shape, not the traditional stollen shape, and nobody will wonder about it when you make it for Easter.

It's a wonderful fruit bread, served if you wish, slathered with butter, and covered in jam. Check it out here!
"Q" Recipe, just for YOU!
Angemachter Quark
Perfect alongside some pretzel buns, this really has no measurements.

Use approximately one cup of Quark, (see recipe posted above), and add some finely chopped red peppers, a finely chopped dill pickle, a tsp of mustard, and then season to taste with paprika, salt and pepper. You can add some chopped green onions or chives if you wish.
"Q" Places
Wikipedia only mentions 4 "Q" cities and towns in Germany! And one of them made the Top 100 Sights and Attractions in Germany 2014. That place is Quedlinburg. The other three places are Quakenbrück, Querfurt, and Quickborn.
Quedlinburg
Among the few best-preserved medieval and renaissance towns in Europe, Quedlinburg lies north of the Harz Mountains in Saxony-Anhalt, almost in the middle of Germany. As an important royal and imperial town in the Middle Ages, there are still over 1,300 timber-framed houses as well as the basilica built between 1070 and 1129.

There's even a narrow-gauge railway to ride to Mount Brocken or in the beautiful surroundings. Certainly a lovely place to visit and walk around taking photos, especially during the Christmas market time.
"Q" People
Only one famous "Q" German that I could find!
Ludwig Quidde (1858–1941), historian and pacifist
"Q" Words
Want to learn some German words to use in the kitchen?
Qualm - smoke … which happens in my kitchen sometimes!
Quark - quark
Quatschen - chatter, talk nonsense … happens in my kitchen too!
Quellwasser - spring water
Quetschen - to crush or mash
Quetschkartoffeln - mashed potatoes
Quirl - whisk
Quitte - quince
When I asked my German Foodie Fans on my Facebook page for "Q" words (used in the kitchen), this was the result:
Quark, Quittenmarmalade, Quelle Katalog. That's it!
I remember growing up the the Quelle Katalog. My Mutti would order from that and we'd wait months for that parcel to arrive by ship. Wonderful memories.
Oma's News ... It's almost Easter!
April 5th is just around the corner. Easter!

What a wonderful time of the year! The resurrection of Christ celebrated amidst tulips, daffodils, and robins. (at least in southern Ontario!) Time for the family to gather and celebrate. Hunt for eggs. Feast and make memories.

Easter in Germany is a wonderful time as well. I remember blowing eggs and painting them with my Mutti to hang on branches for our table decoration. Such wunderbar memories.

For more about celebrating Easter in Germany and the types of foods eaten, check this out.

While you're there, do check out my cookbooks. Click here and get the help you ned to cook just like Oma!

OK, that's enough chatting for today. I'm off to the kitchen. It's time to do some cooking! I hope you're following all the news on my Facebook Fan page as well.

Tschüss and guten Appetit,
Oma Gerhild



Have any favorite recipes or photos to share? You can either post them directly to my website at Share your Favorite Recipe or post a picture and any information on our Facebook Fan Page for all the world to see!

Any questions? Just ask!
---
If you received this email forwarded from a friend, why not sign-up for your own monthly copy of Quick Fix?


---