Just like Oma's - "P"
Hallo,

"P" is our letter this month as we travel through our series on Germany from "A" to "Z".

We're checking out "P" foods, going to some "P" places in Germany, meeting some "P" people, and learning some "P" words!
"P" Foods
1. Pfannkuchen (Pancake)
Pancakes are a quick and easy dish to make. Germans have several ways to enjoy theirs. Common are egg pancakes and potato pancakes. Here's one that's not so common, but is so extraordinarily easy to make and so utterly delicious to eat. It's made in the oven, puffs up beautifully, and is always a treat when I serve it.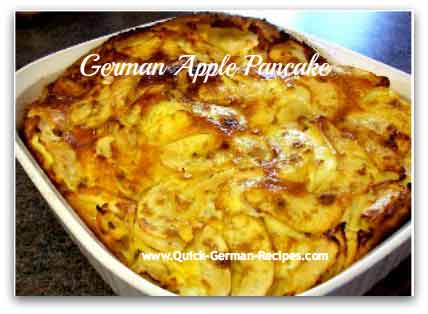 So easy to make. Check out Apple Pancake.


2. Pflaumenkuchen (Plum Cake)
If you're German, you may recognize the Quark-Öl dough … a dough that uses quark and oil in its ingredients. The resulting cake tastes like it's made with yeast … only it's quicker to make. I've altered the basic recipe to use Greek yogurt, since quark is seldom available over here in Canada.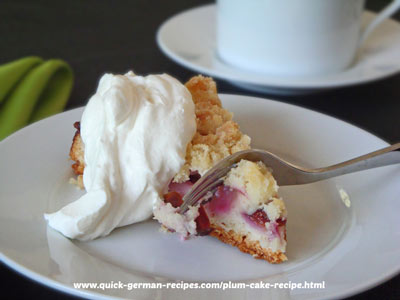 It makes a great base for a plum cake, but other fruits can also be used. You'll find the recipe here.


"P" Recipe, just for YOU!
Porree (Überbackener) (Leeks au gratin)
Au gratin means that something is topped with a browned crust of either cheese or breadcrumbs. The following recipe can be made, using the same method, for spinach, cauliflower, or endive:

Ingredients:
1½ lb. leeks
3 tbsp butter
5 tbsp flour
1 cup broth (beef or vegetable)
approx. ½ cup milk
1½ cup grated cheese
1 egg yolk
salt and pepper (freshly ground)
Instructions:
Preheat oven to 350°F.
Trim leeks to remove top greens and bottom roots. Wash thoroughly.
Simmer leeks in lightly salted water until tender, about 10 minutes.
Meanwhile, make the sauce by melting butter in a saucepan. Stir in flour, and cook, stirring constantly until lightly browned. Stir in broth, and continue cooking and stirring, adding a bit of milk if needed to make a nicely thickened sauce. This will take about 5 - 10 minutes. Remove sauce from heat and stir in 1 cup of grated cheese and the egg yolk. Season with salt and pepper.
Lay cooked leeks into a buttered casserole dish.
Pour sauce over top of the leeks. Sprinkle with remaining cheese.
Bake until cheese is nicely melted and top is browned … about 30 - 40 minutes.
Makes 4 servings.
"P" Places
Here are a couple of "P" places for you to enjoy on your next trip to Germany.
1. Palaces and Parks of Potsdam
Situated about 20 miles south-west from Berlin, Potsdam, with its surrounding lakes and rivers, makes a wonderful place to spend some of your vacation time. Many historic buildings and unique landscapes have made this a frequently used location for films, such as The Pianist and Around the World in 80 Days.

The largest World Heritage Site in Germany is here, Sanssouci Palace, which was Frederick the Great's summer residence in 1745. Surrounded by parks, this is a lovely place to meander through, taking photos and perhaps having a picnic lunch.
2. Porsche Museum
Located in Stuttgart, this one's on the list of the Top 100 Sights of German 2014 (as was Potsdam) and is a MUST SEE if you're a car enthusiast! Filled with almost 100 of the best and most famous racing and road cars, including the original Beetle, this building is considered one of Stuttgart's architectural highlights.
3. Pulsnitz
This one's not on the Top 100 list … but, it should be! Why? Pulsnitz is famous for its Pfefferkuchen and was nicknamed "Pfefferkuchenstadt" meaning "Gingerbread Town." In 1558, the bakers in Pulsnitz were given permission to bake these Christmas cookies and, to this day, there are still eight Pfefferkuchen bakeries in the area.
"P" People
Some famous "P" Germans:
Johann Pachelbel (1653-1706), composer
Max Planck (1858-1947), physicist, considered to be founder of quantum theory
Ferdinand Porsche (1875-1951), designer and founder of Porsche
Prince Hermann von Pückler-Muskau (1785-1871), writer and landscape gardener
"P" Words
Want to learn some German words to use in the kitchen?
Pampelmuse - Grapefruit
Paniert - Breaded
Paprika - Paprika
Paprikaschote - Bell peppers
Petersilie Parsley
Pfanne - Pan
Pfannkuchen - Pancake
Pfeffer - Pepper
Pfefferminze - Peppermint
Pfirsich - Peach
Pflaume - Plum
Pilze - Mushrooms
Plätzchen - Cookies
Porree - Leeks
Preiselbeeren - Cranberries
Pute - Turkey
When I asked my German Foodie Fans on my Facebook page for "P" words (used in the kitchen), here are some of the ones that were submitted (How many can you translate?):
Pfirsich Torte, Pudding, Petersilie, Papa, Pate, Panne, Prinzregenten Torte, Pretzel, Pergament, Pastete, Päckchen, Panieren
Oma's News
We're in the midst of a polar vortex (so the weatherman says) and the thermometer says -25°C! Cold. Bitterly Cold. Perfect for soup!
A most popular soup on the website right now is Sauerkraut Soup
That's followed closely by Turkey Rice Soup
Another popular recipe that keeps being asked for on my Facebook page is Apple Strudel ... such an easy dessert to make!
Want to Cook just like Oma?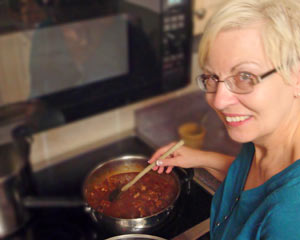 Even if you've never cooked soup before, I'll show you how.

You can follow along with me as I take you step-by-step to creating a potful of deliciousness.

I'll even teach you how to make soup without a recipe.

Click here and pretend you're a German Oma and start cooking today!



OK, that's enough chatting for today. I'm off to the kitchen. It's time to do some cooking! I hope you're following all the news on my Facebook Fan page as well.

Tschüss and guten Appetit,
Oma Gerhild



Have any favorite recipes or photos to share? You can either post them directly to my website at Share your Favorite Recipe or post a picture and any information on our Facebook Fan Page for all the world to see!

Any questions? Just ask!
---
If you received this email forwarded from a friend, why not sign-up for your own monthly copy of Quick Fix?


---