Just like Oma's - "O"
Hallo,

"O" is our letter this month as we travel through our series on Germany from "A" to "Z".

We're checking out "O" foods, going to an "O" place in Germany, meeting some "O" people, and learning some "O" words!
"O" Foods
1. Obsttorte
(Fruit Flan)
Although many buy the flan base and then fill it, it is so easy to make at home. I, too, used to buy it. Then, I started questioning myself why I didn't make it from scratch. Now, the only question is deciding how to fill it. Cover with pudding and decorate with fruit? Decorate with fruit and cover with a fruit glaze? Which fruit?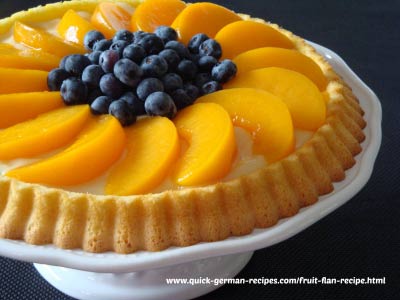 So easy to make. All it takes is just one hour from start to table! Check out German Obsttorte.


2. Oatmeal Cookies (Haferflockenplätzchen)
I've been making this recipe for the past 50 years! So easy to make … add chocolate chips, raisins, nuts, M&Ms … you choose!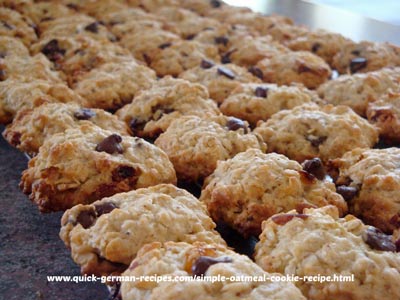 This one's great for the kids (and grandkids) to help with. You'll find the recipe here.


"O" Recipe, just for YOU!
Obazda (Bavarian Cheese Spread)
Usually served with pretzels, this spread is also great with breads and veggies. There are lots of variations possible … here's one:

Ingredients:
8 oz. ripe Camembert, cubed
3 tbsp soft butter
4 oz. cream cheese
1 small onion, finely chopped
1 tbsp sweet Hungarian paprika
½ tsp ground caraway
salt and pepper (freshly ground)
2 - 4 tbsp malt beer (Malzbier) or cream
Instructions:
Put the Camembert, butter, and cream cheese into a bowl. Using a fork, mash together thoroughly.
Add onions and mix well.
Stir in paprika and caraway. Season with salt and freshly ground black pepper.
Stir in just enough beer or cream until a spreading consistency is achieved.
Cover the bowl and refrigerate for at least one hour. Serve, sprinkled with extra paprika (either sweet or hot)
(I've found this spelled several ways: Obazda, Obatza, and Obazter)
"O" Places
There's one place I thought of the moment I went to research "O" places. I've only been there once, but am hoping to visit again this year. I'll have my camera ready for sure!
1. Oberammergau
This little village in Garmisch-Partenkirchen in Bavaria is, for many, synonymous with the Passion Play. What started in 1634 as a way of thanking God for saving them from the bubonic plage, has been repeated every ten years since. At present, almost half the town is involved, either as actors, singers, musicians, or technicians, over 2,000 people!

Together with the woodcarvings and the many frescoes on the buildings, this is an amazing place to visit. Another interesting item? There is a well-known German tougue-twister for this village and its neighboring village of Unterammergau.

Heut kommt der Hans zu mir, freut sich dies Lies.
Ob er aber über Oberammergau,
oder aber über Unterammergau,
oder aber überhaupt nicht kommt,
ist nicht gewiß!
"O" People
Some famous "O" Germans:
August Oetker (1862-1918), pharmacist … started those baking powder packages!
Jacques Offenbach (1819–1880), composer
Hans von Ohain (1911-1998), designer of first operational jet engine
Adam Opel (1837–1895), founder of the automobile company Adam Opel AG
Frei Otto (1925- ), architect and research scientist
Werner Otto (1909–2011), founder of Otto GmbH, a mail order company
"O" Words
Want to learn some German words to use in the kitchen?
Obst - Fruit
Obstsalat - Fruit salad
Ochsenfleisch - Ox meat
Öl - Oil
Orange - Orange
Orangensaft - Orange juice
Some "O" words that my Facebook German Foodie Fans thought of: Osterizer, Oliven, Ohr, Ochs, offen, Ochsenschwanzsuppe, Ofen, Oma, Opa, Ostern, Obazder, Obstkuchen, Oblaten, und Ölpfanne
How many of these do you recognize?
Oma's News
It's been so cold here, in southern Ontario, Canada, where I live. I've been making lots of soup for hubby and me to enjoy. Perfect when the cold winds are blowing! Easy to make and so nutritious, too.
The most popular soup on the website right now is Oma's Goulash Soup
That's followed closely by my Sauerkraut Soup. That's really about as German as one can get!
Another popular recipe that keeps being asked for on my Facebook page is Sauerbraten ... such a wonderful traditional meat ... perfect for your Sunday roast.
Want to Cook just like Oma?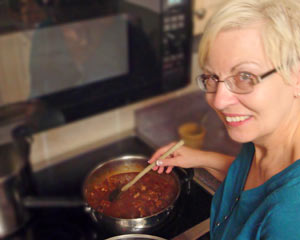 Even if you've never cooked soup before, I'll show you how.

You can follow along with me as I take you step-by-step to creating a potful of deliciousness.

I'll even teach you how to make soup without a recipe.

Click here and pretend you're a German Oma and start cooking today!



OK, that's enough chatting for today. I'm off to the kitchen. I have some dishes to wash and some recipe planning to do! I hope you're following all the news on my Facebook Fan page as well.

Tschüss and guten Appetit,
Oma Gerhild



Have any favorite recipes or photos to share? You can either post them directly to my website at Share your Favorite Recipe or post a picture and any information on our Facebook Fan Page for all the world to see!

Any questions? Just ask!
---
If you received this email forwarded from a friend, why not sign-up for your own monthly copy of Quick Fix?


---