Just like Oma's - "N"
Hallo,

"N" is our letter this month as we travel through our series on Germany from "A" to "Z".

We're checking out "N" foods, going to some "N" places in Germany, meeting some "N" people, and learning some "N" words!

It's almost Christmas, so "N" is perfect! Why? Because Nuremberg has Germany's most famous Christmas market … read about that a bit later.
"N" Foods
1. Nudeln (Noodles)
So popular in southern German, noodles are the starch that's often served with meals. Some of the more traditional ones are Spätzle and Schupfnudeln.
Check out these and other noodle dishes!
2. Nutella Pfannkuchen (Nutella Pancakes)
Pancakes aren't just for breakfast! Need a quick and easy dessert? Make these traditional German pancakes and either serve with fruit, as shown, or make them very child-friendly by spreading with Nutella and rolling them up.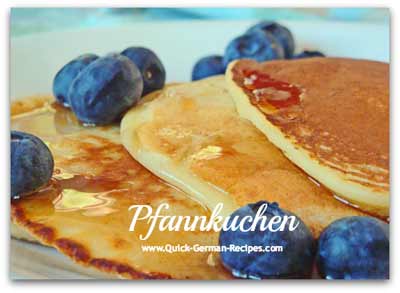 This even works for breakfast!
"N" Recipe, just for YOU!
Nusstorte (Nut Cake)
Ingredients:
8 eggs, separated
1¼ cups granulated sugar
2 tsp lemon zest
1½ cups coarsely ground hazelnuts (filberts)
1 tsp ground cinnamon
¼ tsp ground cloves
⅛ tsp ground allspice
⅛ tsp ground nutmeg
¾ cup flour, all-purpose
Instructions:
Preheat oven to 325 F. Prepare 10-inch spring-form pan by greasing and dusting with flour.
In a large mixing bowl, beat egg whites until stiff. Slowly beat in sugar and egg yolks, one at a time. Add lemon zest.
In a separate bowl, mix together the hazelnuts, spices, and flour. Fold into egg mixture.
Pour batter into prepared pan and smooth surface.
Bake 50 minutes or until wooden pick comes out clean when inserted into center.
Turn oven off, but keep cake in oven with door closed. Let cool in oven.
When cool, remove from pan.
If desired, sprinkle with icing sugar or make glaze by mixing 2 cups icing (powdered) sugar with ⅓ cup liquid (traditional is rum or arrak), but can be water or coffee instead.
"N" Places
According to The TOP 100 Sights and Attractions in Germany for 2014, Nuremberg appears three times. The absolute most popular attraction, though, is a fairytale castle. These are the two places we visit today!
1. Nuremberg (Nürnberg)
Christmas is just around the corner and the air throughout Nuremberg is filled with the enticing aromas of Glühwein (mulled wine), Bratwurst, and Lebkuchen (gingerbread). The world-famous Christkindlesmarkt is the place to visit, to shop, and to eat. It truly is what Nuremberg is so well known for.

Going at any other time of the year is awesome as well. Wonderful places to visit are the Dürer House, the Old Town, and the Kaiserburg Castle. In fact, if you need a place to overnight, you can stay in the hostel that's part of the Castle.
Wear your walking shoes because there's so much to see. Bring your camera and don't forget your appetite. It's not just Bratwurst here, it's the famous Nürnberger Rostbratwurst!
2. Neuschwanstein Castle
This world famous 19th-century castle is number ONE on the list of places to see. Located in southwest Bavaria on a rugged hill above the village of Hohenschwangau, Neuschwanstein Castle was commissioned by Ludwig II. It became a tourist attraction immediately after his death in 1886. Since then, over 61 million people have visited. This makes it one of Europe's most popular tourist attractions.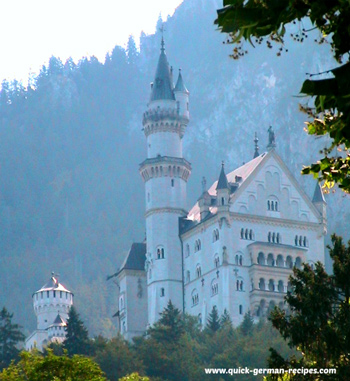 Haven't seen it yet? Have you seen Disneyland's castle? That's right. It's based on Ludwig's. It was also the location for the film Chitty Chitty Bang Bang. I don't think Ludwig had this in mind when he designed his personal refuge, but it's now referred to by many people as the hilltop fairytale castle!
"N" People
Some famous "N" Germans:
Thomas Nast (1840-1902). cartoonist
Walther Nernst (1864-1941), physicist
Karl Nessler (1872-1951), inventor of the permanent wave
Friedrich Nietzsche (1844–1900), early existentialist philosopher
Emmy Noether (1882-1935), mathematician
"N" Words
Want to learn some German words to use in the kitchen?
Nachspeisen - Desserts (literal: after dining)
Naschen - to nibble
Nelken - Cloves
Neu - New
Nein - No
Niere - Kidney
Nockerl - Small dumplings (Bavarian)
Nudeln - Noodles
Nüsse - Nuts
Some "N" words that my Facebook German Foodie Fans thought of: Nussknacker, Nutella, Nudelsuppe, Nougat, Nascher.
How many of these do you recognize?
Oma's News
If you still haven't quite decided what to make for Christmas or perhaps you're already thinking about what you can do for New Year's, do check out my two posts for these.
With all the preparations for Christmas, there's sometimes little time to cook and make delicious and nutritious meals. I've been adding many recipes for soups to the website, soups such as
Want to Cook just like Oma?
Even if you've never cooked soup before, I'll show you how. You can follow along with me as I take you step-by-step to creating a potful of deliciousness.

I'll even teach you how to make soup without a recipe. Just pretend you're a German Oma and start cooking!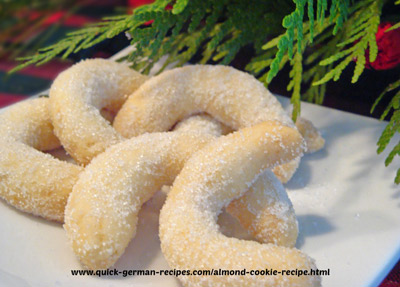 OK, I think I'll head for the kitchen now! Still time to bake some Vanillekipferl.

That's it for now. I hope you're following all the news on my Facebook Fan page as well.

Tschüss and guten Appetit,
Gerhild Fulson



Have any favorite recipes or photos to share? You can either post them directly to my website at Share your Favorite Recipe or post a picture and any information on our Facebook Fan Page for all the world to see!

Any questions? Just ask!
---
If you received this email forwarded from a friend, why not sign-up for your own monthly copy of Quick Fix?


---