Just like Oma's - "M"
Hallo,

"M" is our letter this month as we travel through our series on Germany from "A" to "Z".

We're checking out "M" foods, going to some "M" places in Germany, meeting some "M" people, and learning some "M" words!
"M" Foods
1. Marmorkuchen (Marble Pound Cake)
It's actually one of the very first German cake recipes I made when I was married. Since then, it's one my hubby asks for when I ask what he'd like me to make. Our boys just 'loved' the chocolate part. Because of that, I would often make two-thirds of the cake chocolate by doubling the chocolate quantity.
Here's my easy recipe!
2. Mohrrübensuppe (Carrot Soup)
Carrot soup may sound unusual, but it really is a favorite in our family, one that's been passed down from my Mutti. Sliced carrots in a rich beef broth with potatoes and beef gives the broth a rich sweetness … so very lecker!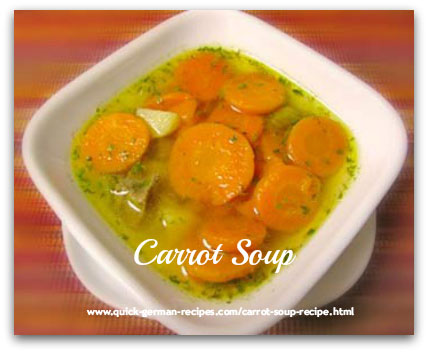 Use frozen carrots to make this a real quick supper!

Do check it out right here, right now!


3. Mohnkuchenrolle (Poppy Seed Roll)
So traditional and so good! Yes, easy too! I use a bread machine to make my yeast dough, although you can make it totally by hand, and then fill it with this yummy poppy seed filling. Tastes best freshly baked … lecker, lecker!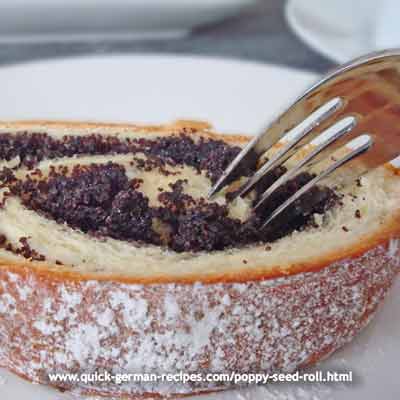 Make this ... you'll want it!
"M" Recipe, just for YOU!
Milchsuppe (Milk Soup)
Ingredients:
Soup:
4 cups milk
¼ cup rolled oats (old fashioned)
1 egg yolk
pinch salt
3 tbsp sugar
Instructions:
Carefully bring milk to boil, reduce heat to simmer, and add oats.
Simmer 10 to 15 minutes, stirring constantly, until oats are cooked and soup is thickened.
In a small bowl, mix the egg yolk with the salt. Add a ladle of hot milk/oat mixture to the egg, stirring well. Pour this back into the rest of the hot milk/oat mixture and stir well.
Remove from heat (or else the egg yolk will curdle!)
Add sugar to taste.
Serve with meringue dumplings.
Meringue Dumplings to serve in the Milchsuppe …
Ingredients:
1 egg white
2 tbsp sugar
¼ tsp vanilla extract
Instructions:
Beat egg white until nearly stiff in a small bowl.
Slowly add sugar and vanilla, and continue beating until very stiff.
Drop spoonfuls of meringue mixture into a pot of gently simmering water.
Cook for about 3 - 5 minutes until dumplings are set.
Serve in the Milchsuppe.
"M" Places
According to The TOP 100 Sights and Attractions in Germany for 2013, Munich (München) appears 6 times. The most popular "M" place I've featured on the "Let's Visit Germany" series on my Quick German Recipes Facebook page is Mannheim. So, these are the two places we visit today!
1. Munich (München)
In 2013, Monocle (global affairs and lifestyle magazine) ranked Munich as the world's most livable city with the highest quality of life.

However, most will think of Oktoberfest when they hear "Munich" and there's a good reason for that. Over 6 million people from around the world visit Munich for the two-week long party!

There is so much to do and see while there: Marienplatz, the Munich Residenz, the English Garden, Olympic Park, and Pinokothek Galleries.

If you're planning a trip to Germany, Munich, the capital and largest city of Bavaria, should be on your to-see list! As well, include of a second breakfast of Weißwürst ... the only place you can get the real thing!
2. Mannheim
Mannheim is located where the Rhine and Neckar rivers meet in the state of Baden-Württemberg. Called the "city of squares" … not because of the people :) but because of the grid pattern it was built upon!

Check out my posting on Facebook about Mannheim, read the comments and see all the photos posted. While you're there, do "Like" the page if you haven't yet and check out all the other places we've featured! Do "follow" the page as well to be kept up-to-date with all the postings.
"M" People
Some famous "M" Germans:
Harro Magnussen (1861–1908), sculptor
Franz Marc (1880–1916), painter
Karl May (1842–1912), author
Oscar Ferdinand Mayer (1859–1955), founder of the processed-meat firm Oscar Mayer
Felix Mendelssohn (1809–1847), composer
Georg(e) Merck (1867–1926), founder of Merck & Co.
Wilhelm Messerschmitt (1898–1978), aircraft engineer
Frederick Miller (born Friedrich Müller) (1824–1888), founder of Miller Brewing Company
August Ferdinand Möbius (1790–1868), mathematician, theoretical astronomer
Georg Muche (1895–1987), painter, printmaker, architect, author and teacher
"M" Words
Want to learn some German words to use in the kitchen?
Mager - Lean or Low-fat
Mais - Corn
Majoran - Marjoram
Mandeln - Almonds
Maronen - Chestnuts
Marzipan - Marzipan
Maultaschen - Filled Pasta, similiar to ravioli
Meeresfrüchte - Seafood (literal translation: fruit of the sea)
Meerrettich - Horseradish
Messer - Knife
Milch - Milk
Mittagessen - Lunch
Mohn - Poppy seeds
Möhre or Mohrrübe - Carrot
Muskatnuss - Nutmeg
Some "M" words that my Facebook German Foodie Fans thought of: Mozartkugeln, Maultaschen, Max & Moritz, Montag, Manieren, Meinung, Moment, Menschen, Moneten, manchmal, muss ich, Mann, Massage, manchmal, Marktplatz, Maschinen, Mensch ärger dich nicht, Melone, Moped, Mercedes Benz, Mund, Melodie, Musik, Muesli, Mandarine, Maus, Markt, Mohrenkopf, Mandelhörnchen.
How many of these do you recognize?
Oma's News
Had our first dump of snow on Monday … looks so pretty outside … making me think of all things Christmas.

But, first, for all my American friends, it's time for Thanksgiving. In Germany and in Canada, we've already celebrated in October. That means, we can celebrate this feast at least three times … and enjoy all the food and goodies that means.

In the States and Canada, that's turkey with all the trimmings: mashed potatoes, cranberry sauce, stuffing, sweet potatoes, and green bean casserole. For something a bit different, why not celebrate your American Thanksgiving with German foods?

Check out these Top 10 German Foods and make Thanksgiving a multi-cultural feast this year!

After all the celebrating is over, it's definitely time to start decorating for Christmas and to get busy in the kitchen. There's Lebkuchen to make … and lots more!

OK, I'm off to the kitchen! That's it for now. I hope you're following all the news on my Facebook Fan page as well.

Tschüss and guten Appetit,
Gerhild Fulson



Have any favorite recipes or photos to share? You can either post them directly to my website at Share your Favorite Recipe or post a picture and any information on our Facebook Fan Page for all the world to see!

Any questions? Just ask!
---
If you received this email forwarded from a friend, why not sign-up for your own monthly copy of Quick Fix?


---