Just like Oma's - "K"
Hallo,

"K" is our letter this month as we travel through our series on Germany from "A" to "Z".

We're checking out "K" foods, going to some "K" places in Germany, meeting some "K" people, and learning some "K" words! But first things first …
Oktoberfest!
It's here! Starting tomorrow until October 5, it's time to celebrate EVERYTHING GERMAN! Especially if it's BAVARIAN!

It's not too late to plan your party … or perhaps you just want to celebrate your German culture with your family and friends.

I've put together the Top 10 Oktoberfest recipes found on Quick German Recipes … my top 10! Grab your copy and download it right away, get out your pots and pans, and cook Just like Oma!
"K" Foods
Unlike the "J" foods from last month, there is an abundance of food starting with "K", so the ones I'm showing today are those that keep their "K" even in English.
1. Königskuchen
Here's a traditional holiday cake that's often served at Christmas. It's a non-yeast raisin and currant fruit cake that is usually baked in its own traditional loaf pan. Easy to make and easy to enjoy!
The literal translation for this is 'King's Cake', but it is not the same as the one that's known by that name in the States.

Save this for your holiday baking


2. Kaiserschmarrn
In reality, these are just torn or scrambled pancakes. It originated in Austrian and was a favorite of emperor Kaiser Franz Joseph.

It's now a traditional German pancake, especially in the Bavarian area. There are several ways to make this, but generally, it's a pancake that's torn apart with two forks towards the end of its cooking time, then caramelized with sugar and sprinkled with powdered sugar. It's served with fruits, either for dessert or as a lunch.

Here's my easy way to make this delicious dish!


3. Kassler Chops with Sauerkraut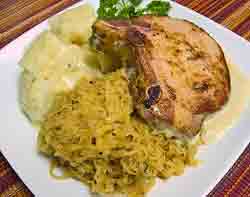 Such a wonderful meal for these cool autumn days, kassler and sauerkraut will bring you right back into Oma's kitchen.

Kassler, a type of smoked pork loin, needs very little cooking.

A quick fry in the pan. It's ready! Wouldn't this be perfect for Oktoberfest? And it's so easy! Do check it out right here, right now!


4. Königsberger Klöpse mit Hollandische Sosse
I love saying this "Königsberger Klöpse mit Hollandische Sosse" … sounds so elegant. A quick translation is "meatballs in a white sauce" … sounds so simple, but they taste so wunderbar.
What makes these traditional is adding anchovy paste and capers. But, my Mutti didn't add those, and neither do I. And, we LOVE them this way.

These are a real 'comfort' food … very easy to make. Check them out … print or pin … you'll be wanting this!


"K" Recipe, just for YOU!
This one's absolutely perfect for this Canadian autumn weather we're having. Had frost last night … Brrr!
Kürbisgemüse - Stewed Pumpkin
Ingredients:
1 tbsp butter
1 medium onion, coarsely diced
1 leek, well washed and cut into rings
2 lb pumpkin (Muskatkürbis), peeled, deseeded, and cubed
2 apples, peeled, deseeded, and cubed
⅓ cup apple cider
½ tsp honey
salt, pepper, curry powder
Instructions:
Heat the butter in a large saucepan over medium heat. Add the diced onion and leek. Sauté for several minutes.
Add cubed pumpkin and apples. Continue cooking, stirring, for several minutes.
Add the cider and honey. Season with salt and pepper. Add a pinch of curry powder.
Bring to boil, cover, and simmer for about 10 minutes or until pumpkin is tender. Re-season with salt and pepper as needed.
Serve as a side dish to meat, fish, or poultry.
Serves 4.
Want to Cook just like Oma?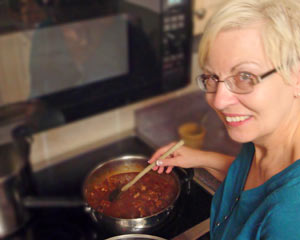 That's me, Gerhild. Oma to three ...

I'll be your Oma, too! I'll teach you how to cook, especially soups.

Why? Because they are so easy, so satisfying, so economical, and so delicious!

Even if you've never cooked before, you'll be able to make a potful of deliciousness just by following along with me as I make some of the most traditional and wonderful of all German soups.

Check out Quick Fix Soups for a collection of my favorites!
"K" Places
We've been visiting one place in Germany every day on my Quick German Recipe Facebook Page. Of the 39 random places we've visited so far, two started with K. (There are around 100 places in Germany starting with the K!)
1. Kitzingen
Surrounded by vineyards, Kitzingen is located in Bavaria. A town of many legends, it has it's own Leaning Tower as well as the Grave of Dracula. Really!
2. Kassel
Kassel is located on the Fulda River in Hesse, Germany. Almost 90% of the city centre was destroyed during WW2, but has been almost completely rebuilt. It is the home of the Wilhelmshöhe Palace, the Lions Castle, a replica of a medieval castle, many parks and museums.

"K" People
Some famous "K" Germans:
Immanuel Kant (1724–1804), philosopher
Erich Kästner (1899–1974), novelist
Johannes Kepler (1571-1630), discovered the laws of planetary motion
Erhard Kietz (1909-1982), physicist, pioneer discoverer of video technology
Heinrich von Kleist (1777–1811), poet, dramatist and novelist
Wolfgang Franz von Kobell (1803–1882), mineralogist
Robert Koch (1843-1910), physician, discoverer, inventor and Nobel Prize winner
Max Kramer (1903-1986), aircraft engineer
(just a few) "K" Words
Want to learn some German?
Kabeljau - cod
Kaffee - coffee
Kakao - cocoa
Kalb - Veal
Kaninchen - rabbit
Karotte - carrot
Kartoffel - potato
Käse - cheese
Kassler - smoked pork loin
Kirschen - cherries
Klopse - meatballs
Klösse - dumplings
Knoblauch - garlic
Kohl or Kraut -cabbage
Kokosnuss - coconut
Kotelett - chop as in pork chops
Kräuter - Herbs
Kuchen - cake
---
That's it for now. I hope you're following all the news on my Facebook Fan page as well.

Tschüss and guten Appetit,
Gerhild Fulson



Have any favorite recipes or photos to share? You can either post them directly to my website at Share your Favorite Recipe or post a picture and any information on our Facebook Fan Page for all the world to see!

Any questions? Just ask!
---
If you received this email forwarded from a friend, why not sign-up for your own monthly copy of Quick Fix?


---