Just like Oma's - "J"
Hallo,

I goofed!

Yes, even an Oma makes mistakes.

I omitted the links to most of the recipes in the last newsletter, so I'm sending it again, below, with the links fixed.

Also, let me tell you what I've been working on: Top 10 Oktoberfest Foods. It's my newest booklet and it should be ready in time for you to plan your Oktoberfest Party! I'll have quick, easy recipes and other tips to dazzle your friends.

So, get your lederhosen and dirndls ready, it's almost that time of year!

OK, here's that newsletter again ... corrected though :)
---
"J" is our letter this month as we travel through our series on Germany from "A" to "Z".
We're checking out "J" recipes, going to some "J" places in Germany, meeting some "J" people, and learning some "J" words!
"J" Foods
1. Jägerschnitzel
Most schnitzel served in Germany are made from pork and Jägerschnitzel are among the most common. The schnitzel can be fried with or without breading and is then covered in the Jägersauce, a mushroom and cream sauce.

Here's a breaded schnitzel, waiting for the mushroom sauce to be poured over.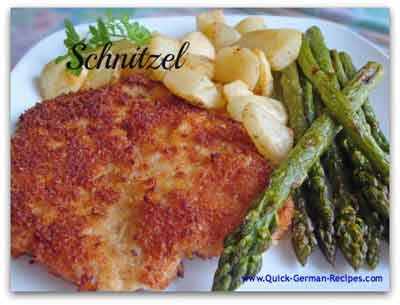 Check out Schnitzel for this very popular recipe.


2. Jägersuppe (Hunter's Mushroom Soup)
Ingredients:
1 tbsp olive oil
2 oz. bacon, diced
1 lb mushrooms, diced
1 medium onion, diced
6 tbsp flour
4 cups beef broth
½ cup cream (18% or 35%)
salt, pepper, sugar
parsley to garnish
Instructions:
Heat oil in saucepan. Add diced bacon and cook to release the fat.
Add mushrooms and onions and cook until onions are translucent.
Sprinkle with flour and stir. Add beef broth.
Simmer on low heat until mushrooms are tender.
Stir in cream.
Season with salt, pepper, and sugar.
Serve, garnished with parsley
Serves 4
3. Johannisbeer-Kaltsuppe (Cold Red Currant Soup)
Ingredients:
1 lb red currants, stripped from stems
1 cup granulated sugar
4 cups buttermilk
1 tbsp vanilla sugar (optional)
Instructions:
Mix the currants with the sugar and let sit for several hours to allow the juices to be released from the berries.
Stir in the buttermilk and vanilla sugar.
Serve in soup bowls.
Serves 4
Want to Cook just like Oma?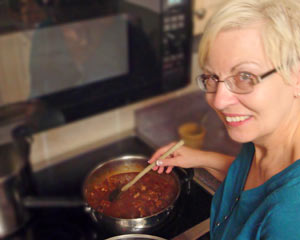 That's me, Gerhild. Oma to three ...

I'll be your Oma, too! I'll teach you how to cook, especially soups.

Why? Because they are so easy, so satisfying, so economical, and so delicious!

Even if you've never cooked before, you'll be able to make a potful of deliciousness just by following along with me as I make some of the most traditional and wonderful of all German soups.

Check out Quick Fix Soups for a collection of my favorites!
Newest Postings at Quick German Recipes
I was looking through some of my old recipes … trying to find something special to celebrate my 26,000 fans milestone on Quick German Recipes Facebook and my eyes fell upon a very old recipe for Oatmeal Cookies! Wow! I hadn't made these in years and I knew my hubby loved them.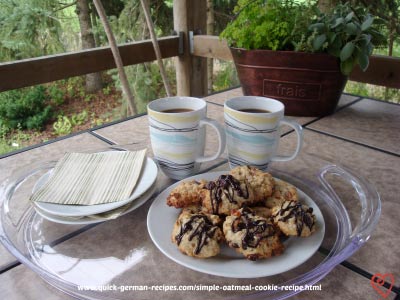 We enjoyed them with a cup of coffee out on the deck. Such a lovely summer afternoon break. I updated the recipe and here it is: Simple Oatmeal Cookies.


Dorka, one of our Facebook fans, sent in the following wonderful Plum Cake … Zwetschgenkuchen (or Pflaumenkuchen) … and, oh, my … looks so good. It's on my to-do list.This recipe is especially interesting because it uses a double crust.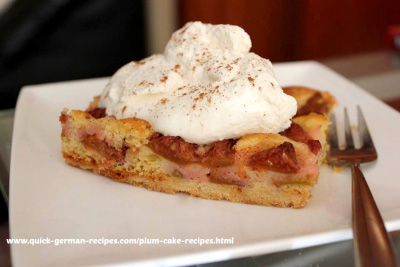 The first one is a cookie crust and that is pre-baked and then covered with a cake crust and plums. Check out Plum Cake for this easy recipe.


Here's another really old, really traditional German cake: Obsttorte. Literally translated that would be Fruit Cake … but that has a different connotation in English. A better translation is Fruit Flan. This one's so easy to make.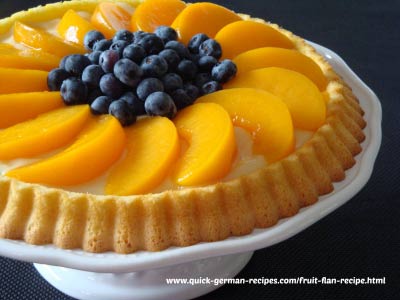 The base only has 4 ingredients. If you need something special for dessert in a real hurry, this is it. From start to table, this is done in less than one hour. You can use almost any kind of filling.

Do check out the Facebook Fans ideas at the bottom of the recipe posting. There are dozens of ideas, including Nutella, fruit glazes, etc., etc., Ready to make this?

Go to Obsttorte to check out this quick German recipe!

"J" Places
Jena
Among the very few "J" places in Germany is Jena. Carl Zeiss, Ernst Abbe, and Otto Schott, made Jena into one of Germany's foremost industrial and innovation center for light, glass, and optics. The Zeiss factory and Schott Glas are famous around the world.

Jena, located in the state of Thuringia, is a University city and a center of education and research especially in software engineering and biotechnology.

Tourism? There are museums and monuments to visit. The 'old quarter' is the center of social and student life. It's filled with trendy cafes, restaurants, and shops. Keep your eyes open for Draco (one of the seven wonders of Jena) … the seven-headed dragon thought to represent a board of university examiners :)



"J" People
Some famous "J" Germans:
Carl Jacobi (1804–1851), mathematician
Alfons Jakob (1884–1931), neurologist
Karl Jaspers (1883-1969) philosopher
Johannes Jensen (1907-1973) nuclear physicist
Ernst Jünger (1895-1998) writer and philosopher
Hugo Junkers (1859–1935), aircraft engineer
"J" Words
Want to learn some German?

Here are two common "J" words that you can use when you're cooking. (There aren't many "J" words!)
Joghurt - yogurt
Johannisbeeren - currants (usually red)
---
That's it for now. I hope you're following all the news on my Facebook Fan page as well.

Tschüss and guten Appetit,
Gerhild Fulson



Have any favorite recipes or photos to share? You can either post them directly to my website at Share your Favorite Recipe or post a picture and any information on our Facebook Fan Page for all the world to see!

Any questions? Just ask!
---
If you received this email forwarded from a friend, why not sign-up for your own monthly copy of Quick Fix?


---