Quick Fix Recipes - "I"
Hallo,

"I" is our letter this month as we travel through our series on Germany from "A" to "Z".

We're checking out some "I" places in Germany, meeting some "I" people, learning some "I" words, and most importantly, featuring some "I" recipes!
"I" Places
We're going to three places, starting with "I", one is in the TOP 100 sights and attractions in Germany according to the 2013 survey from the German National Tourist Board* and then two other interesting ones.
1. Island of Rügen and the Chalk Cliffs
The Island of Rügen is #18 on the list! It is Germany's largest island … in the Baltic Sea just off the Pomeranian coast. It is linked to the mainland by a bridge and by a causeway.

The Jasmund National Park is located in Rügen and is a UNESCO World Heritage site. Why? The famous Königsstuhl chalk cliffs are here … the main landmark of Rügen.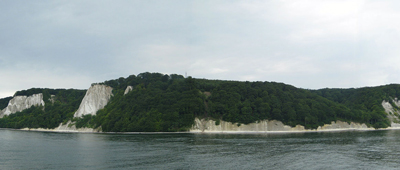 This island is a huge tourist attraction. When we tried to go there on our last trip to Germany, we needed to turn around. There was such a traffic jam of cars trying to get onto the island, we drove to the nearby city of Stralsund instead. Perhaps next time.


2. Idar-Oberstein
There really aren't that many places starting with "I" in Germany. One of our readers suggested Idar-Oberstein.

My goodness, this is an interesting place. Located in the Rineland-Palatinate, on the Nahe River, this place has a long and interesting history. Idar-Oberstein is also a center for gemstone trade. Agates and jasper are mined here.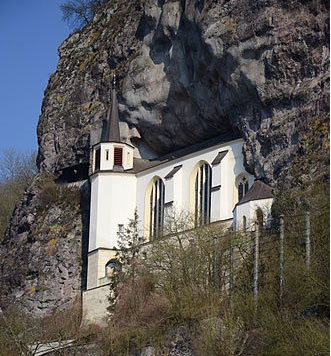 Do google this if you want to know more, but I found the most interesting (and quite sad) attraction was this Felsenkirche. This is a legendary church and symbol for the town … and is the story of two brothers, one beautiful girl, a broken heart, and and miraculous spring.

One of the most popular foods from this area is Spiessbraten made in differing ways depending which part of the city one is in. Other favorite foods are filled potato dumplings, potato sausage (originally a poor man's food, but now a speciality), and Dibbelabbes (roasted potatoes, bacon, and eggs in a special Dibbe or cast-iron pan).


3. Iserlohn
Here's a place that interested me as I researched into "I" cities and towns. Iserlohn. It is located in North Rhine-Westphalia and is a pretty place to visit.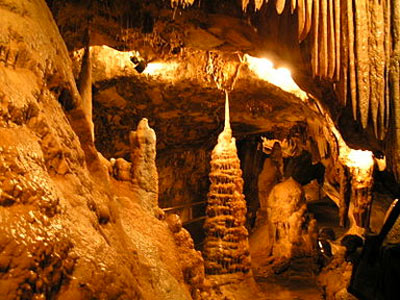 Do make sure you go to the Dechen Cave, one of Germany's most beautiful tourist caves known as a "Tropfsteinhoele." Within the cave, stalactites line the 360 meter route.

Iserlohn's history goes all the way back to 985 AD. Its recent history, though, is that NATO military were stationed there at various barracks in the region.

The Canadian Army had barracks in Iserlohn and many of the woman from that area married service personnel and then immigrated to Canada in the 60's.

This reminds me of my own parents that immigrated to Canada in the 50's with my sister and I. Many were the changes they needed to make as they grew accustomed to a new way of life, a new language, and of course, a new cuisine using local foods with no German deli close by.


"I" People
Some famous "I" Germans:
August Iffland (1759-1814) author and actor
Berthold Imhoff (1868-1939) painter
Jörg Immendorff (1945-2007) painter and sculptor
Otmar Issing (1936-) economist, developed 'two pillar' approach used by ECB
Carl G. von Iwonski (1830-1912) painter
"I" Words
Want to learn some German?

Here are some common "I" words that you can use when you're cooking. (There certainly aren't many, are there?)
Imbiss - snack
Ingwer - ginger
"I" Foods
1. Igel Cake
This recipe for the Igel cake was submitted by Eleanor Oliver for our Easter contest. It's a no-bake cake that she makes for Easter a few years ago ... but it would be a great one to make during the summer as well ... no heat from the oven!
Try the Igel Cake ... and let me know what you think!


2. Iced Coffee (Eiskaffee)
OK, I know. This starts with an "i" in English only. But it's so perfect for these hot summer days! So easy to make. So easy to alter. So easy to eat/drink.

Do try this Iced Coffee when you want extra special yet easy dessert for your family and/or friends.


3. Ingwer Putensteaks
Not fully German, but a mix of cultures, this ginger spiced chicken is an easy every-day type meat to go along with almost any side dishes. And yes, I got the original recipe in Germany in German. It's been altered a bit, ... you know ... a bit of this and a bit of that!

Ingredients:
1 ounce fresh ginger, peeled and grated
1 garlic clove, crushed
½ tsp ground black pepper
4 tbsp soya sauce
4 boneless chicken breasts, about 4 - 6 ounces each
2 tbsp olive oil
Instructions:
To make the marinade, mix the first 4 ingredients together. Rub marinade over chicken breasts and place in a bowl.
Cover and let stand in fridge for about ½ hour.
Preheat oven to 350 F.
Heat oil in frying pan. Dry the chicken breasts with paper toweling. Brown the chicken for about 1 to 2 minutes on each side.
Place chicken into casserole dish and finish in oven for about 15 - 17 minutes or until done.
Serves 4
What's New at Quick German Recipes
Here are some of the new and/or up-dated recipes that have been added to the Quick German Recipes.
Roswitha, another one of our readers, had sent in her recipe for Obstkuchen, (Fruit Tart) some time ago. She made it (and then I made it, too) with blueberries. And, she sent it in again, but this time made with rhubarb.

It can be made with fresh rhubarb, but since that season is almost over in most parts of the world, it can also be made with frozen rhubarb. Doesn't it look delicious?


Check out the recipe at Roswitha's Fruit Tart and enjoy!

How about something that most don't think of as German. Clam Chowder. But, German it is. Muschelsuppe is so creamy and so delicious that even my non-seafood loving hubby loved it.


Check out my recipe at Best Clam Chowder. Let me know what you think.
As you can see, I'm into soups. Here's one that perfect for these hot and humid summer days, Cool Cucumber Soup. Really cool. No stove required.


Check out Chilled Cucumber Soup and enjoy it today!
Your Turn
Have any favorite recipes or photos to share? You can either post them directly to my website at Share your Favorite Recipe or post a picture and any information on our Facebook Fan Page for all the world to see!

Any questions? Just ask!
---
That's it for now. I hope you're following all the news on my Facebook Fan page as well.

Tschüss and guten Appetit,
Gerhild Fulson



*German National Tourist Board Website ** The above pictures of the Island of Rügen, Idar-Oberstein, and Iserlohn are curtesy of Wikipedia.
---
If you received this email forwarded from a friend, why not sign-up for your own monthly copy of Quick Fix?


SiteSell Inc.
c/o www.quick-german-recipes.com
1315 de Maisonneuve Blvd. West, Suite 1302
Montreal, Quebec
Canada H3G 2W9



---