Quick Fix Recipes - "H"
Hallo,

"H" is our letter this month as we travel through our series on Germany from "A" to "Z".

We're checking out some "H" places in Germany, meeting some "H" people, learning some "H" words, and most importantly, featuring some "H" recipes!
"H" Places
We're going to three places, starting with "H", two of which are in the TOP 100 sights and attractions in Germany according to the 2013 survey from the German National Tourist Board* and the other one is just a bit different - a place we visit every time we visit Germany!
1. Hamburg
"When is a hamburger a Hamburger?"

"When it's a hamburger made in Hamburg."

The history of the hamburger (that common meat patty between two halves of a bun) is so difficult to establish. Just googling it will show you how contentious the argument is. Does this common American food really come from Germany or not?

The recorded history of the hamburg goes back to Genghis Khan in the 12th century. Traditionalist will say that the original hamburg was first introduced at the end of the 19th century by a snack seller in Ohio who ran out of sausages to put in the bun.

It really doesn't matter to the Hamburgers (people from Hamburg), because their main cuisine is seafood. After all, Hamburg is situated on Elbe River, which runs into the North Sea. Hamburg has a lake in its center and has more canals than Venice with over 2,000 bridges.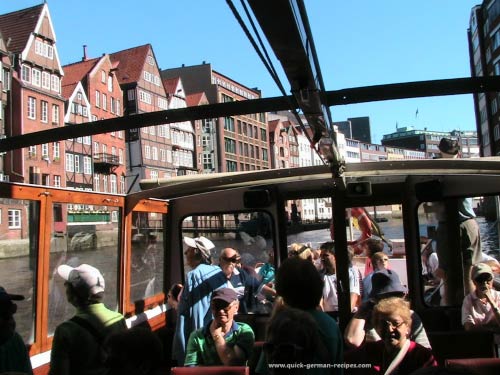 The above photo is from a boat tour we took heading out to the harbor. This international harbor has brought spices and foreign foods to this part of Germany for hundreds of years and has greatly influenced the traditional foods available.

Below, I've included the recipe for Eel Soup, which is popular here, in a version you'll LOVE to make. Really!


2. Heidelberg
One of my favorite places that we visited during our bus tour of Germany several years ago was Heidelberg in Baden-Württemberg. The main tourist attraction that draws about one million visitors a year is Heidelberg Castle.

The saying that 'lightning never strikes twice' is so incorrect. The ruins of this castle were mainly caused by two lightning strikes! Built in 1214, the upper castle was destroyed by lightning in 1537. In 1764, fire caused by another lightning strike destroyed some of the restored parts.

Although there is much history associated with this castle (such as the Thirty Years War), the main attraction is the 'romantic appearance of the ruins' which overlook the city. The views from the castle are amazing.
3. Heilbronn
Have you ever visited a place … encouraged someone else to visit a place … and not really know much about it? Well, that's Heilbronn, for me.

We've been visiting Germany for the past 8 years and every time we go, we make a point of going to Heilbronn in northern Baden-Württemberg, just to have some ice cream at a wonderful Italian ice cream shop.

We tell people that "if you go to Germany, you'll need to go to Heilbronn for the ice cream" and then show them picture after picture of the treats we've eaten there.
As I was about to pass this on to all of you, I thought, "I should check to see what else Heilbronn is known for."

My goodness, on our next visit to this city on the Neckar River, we'll search out the over 700 km of underground roads and the salt mine, the over 500 hectares of vineyards in the city itself, the botanical orchards, the theaters, the festivals, and the shopping.

Of course, we'll have some ice cream … :)


"H" People
Some famous "H" Germans:
Fritz Haber (1868–1934), chemist
Otto Hahn (1879–1968), chemist, "father of nuclear chemistry" & "founder of the atomic age"
Georg Friedrich Händel (1685–1759), composer, opera composer
Ernst Heinkel (1888–1958), Aircraft engineer
Henry J. Heinz (1844-1919)Tomato ketchup and fifty six other things
Rudolf Hell (1901-2002) Inventor of the first fax machine
Richard Hellmann Hellmann's (Blue Ribbon) Mayonnaise
Heinrich Rudolf Hertz (1857–1894), physicist, discoverer of electromagnetic/radio waves
Victor Francis Hess (1883-1964) Discovered Cosmic rays
Gottlob Honold (1876-1923) Inventor of spark plug & modern internal combustion engine & headlights
August Horch (1868–1951), car designer and manufacturer
Engelbert Humperdinck (1854–1921), composer
"H" Words
Want to learn some German?

Here are some common "H" words that you can use when you're cooking.
Hackbraten - meatloaf
Hackfleisch - ground meat
Hammel - mutton
Hähnchen - young chicken
Hase - rabbit
Hasselnüsse - hazelnuts
Hefe - yeast
Heidelbeeren - blueberries
Heiss - hot
Himbeeren - raspberries
Honig - honey
Huhn - hen
Hummer - lobster
"H" Foods
1. Herring Salad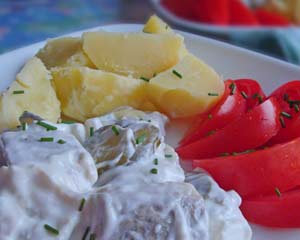 This is one of those quick and easy dinner recipes that even the kids love. It's creamy, it's sweet, it's delicious! Really! Great to use as an appetizer with crackers.

Do try my Herring Salad ... and let me know what you think!


2. Hazelnut Torte
This wonderful torte has no butter, no oil, and very little flour. Covered in marzipan and decorated with whipped cream, it's a heavenly treat!

Or you could serve it without the marzipan and whipped cream. Rather plain, yet delicious.

The marzipan and whipped cream make this into a delectably wunderbar dessert.

Do try this Hazelnut Torte when you want that something extra special for your family and/or friends.


3. Hocks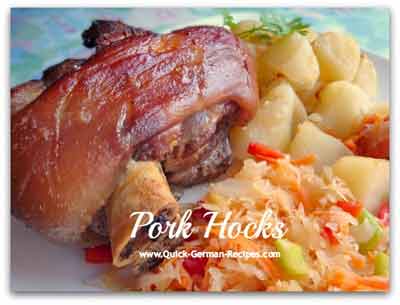 Among the most traditional of all German meats are hocks, pork hocks that is. Here's an easy, if a bit time-consuming, recipe to make this extra special German meal.

Don't wait for Oktoberfest to make these Pork Hocks.



What's New at Quick German Recipes
Here are some of the new and/or up-dated recipes that have been added to the Quick German Recipes.
I LOVE soups! Why? Because they are so easy to make and so utterly delicious! Here's one that kids love: Turnip Soup! You'll find this and more in my Quick Fix Soups Cookbook. I KNOW you'll LOVE it, too!

This lovely light No Bake Lemon Cheesecake, although not German, has become a favorite of our family.

I've started an Oma's Non-German Favorites page to contain the recipes that I love because they are quick. Sometimes they'll have a German twist to them. Sometimes, they are just delicious, such as the lemon cheesecake above.
A Recipe, just for YOU!
Aalsuppe (eel soup) - originally meaning "all soup" was made from everything except the kitchen sink.

Eel was not part of it. However, because it sounded like "eelsoup" (Aolsuppe) in German, eel is often added, especially in restaurants so that people won't complain that there's no eel in the "eelsoup".

So, here's a recipe for this delicious soup, that's so common in Hamburg.
Aalsuppe (Eel Soup)
Ingredients:
1 meaty ham bone
1 onion
1/4 tsp cloves
1 bay leaf
8 cups beef stock (or use bouillon cubes and water)
1 lb fresh eel (if using)
3 tbsp lemon juice
1 lb dried mixed fruit (apples, pears, and prunes)
1 medium sized leek, washed well, finely diced
1 carrot, peeled, diced
1 kohlrabi, peeled, diced (optional)
3 stalks asparagus, cut in 1 inch pieces
1 cup green peas (fresh or frozen)
1/2 bunch parsley, chopped
2 tbsp butter
4 tbsp flour
salt, sugar, pepper
Instructions:
Put the ham bone, onion, cloves, bay leaf, and water in a large pot. Bring to boil, cover, and simmer for 1 1/2 hours.
Meanwhile prepare and dice vegetables.
Skin and clean eel, if using. Cut into 1-inch chunks. Sprinkle with salt and lemon juice and let marinate.
Soak dried fruit in hot water for 15 minutes and then drain.
Put eel pieces into another pot, cover with some of the liquid from the "ham bone" pot. Simmer eel on low for about 10 - 15 minutes, just until the eel flakes.
Remove ham bone from pot and add vegetables (except peas), drained fruit, and parsley.
Simmer for 15 minutes. Remove any meat from ham bone and return meat to the pot. Add peas for last 5 minutes of cooking time.
Knead together the butter and flour and then stir into soup to thicken it. Season with salt, sugar, and pepper.
Add eel to soup and serve with Brandteigklöschen (puff dumplings).
Brandteigklöschen (puff dumplings)
Ingredients:
1/2 cup water
1 tbsp butter
3 tbsp flour
pinch of salt
2 eggs
Instructions:
Bring water to boil in a small pot. Add butter and cook until melted.
Add salt to flour. Add all at once to water-butter mixture. Stir over low heat until dough pulls away from sides of pot and forms a ball.
Remove pot from heat and cool slightly.
Add eggs, one at a time, beating well, until well mixed.
Using a wet teaspoon, remove bits of dough and drop into boiling salted water or soup. Simmer until dumplings rise to top (about 10 minutes).
Your Turn
Do you have any favorite recipes or photos to share? You can either post them directly to my website at Share your Favorite Recipe or post a picture and any information on our Facebook Fan Page for all the world to see!

Any questions? Just ask!
---
That's it for now. I hope you're following all the news on my Facebook Fan page as well.

Tschüss and guten Appetit,
Gerhild Fulson



*German National Tourist Board Website
---
If you received this email forwarded from a friend, why not sign-up for your own monthly copy of Quick Fix?


---