Quick Fix Recipes
Germany - All Things "F"
Hallo,
"F" is our letter this month as we travel through our series on Germany from "A" to "Z".
We're checking out some "F" places in Germany, meeting some "F" people, learning some "F" words, and most importantly, featuring some "F" recipes!
"F" Places
We're going to three places, starting with "F", two of which are in the TOP 100 sights and attractions in Germany according to the 2013 survey from the German National Tourist Board* and the other one is just a bit different!
1. Freiburg
The University city of Freiburg is renown for its cheerfulness and friendliness perhaps because it is the sunniest and warmest city in Germany. With its carefree and laid-back atmosphere, it's wonderful to stroll through the city centre and down the many side streets.

When we first visited there a couple of years ago, one of the most unusual things I saw were the Bächle.
These are narrow channels of gurgling water that run throughout its centre. These gutters were originally used to provide flowing water for livestock and to fight fires, not sewers! It was fun to see children playing in them with their boats and little plastic duckies.

We wandered down the streets and came to the the city centre which is dominated by the 116-metre tall church spire, surrounded by a market and bubble-blowers!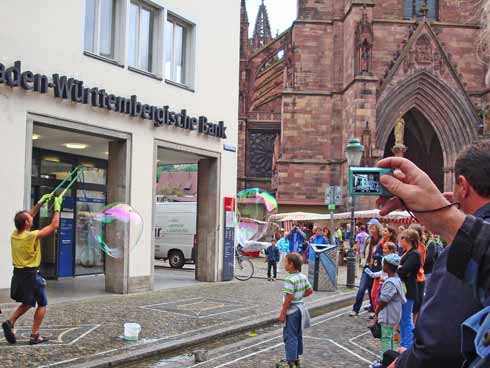 We stopped for a quick bite, a traditional sausage from a street vendor. The sausage was much too long for the bun, so it was served in this very unusual way. WUNDERBAR!
This magnificent city is filled with culture, architecture, history, parks, museums ... I'm definitely ready to go back for a visit.


2. Frankfurt
My first introduction to Frankfurt was in 2006 when I was making travel arrangements and needed to book a hotel. Our flight from Canada was to Europe's third largest airport: Frankfurt. So, I booked a hotel in Frankfurt. Makes sense, doesn't it? NO!

I realized about an hour later that there are TWO Frankfurts. Frankfurt am Main and Frankfurt am Oder. They are over 600 km apart. I fixed that reservation quickly.

Frankfurt am Oder is the smaller one (~60,000 population) on the Oder River near the German-Polish border. It goes by its full name to distinguish it from the larger one.

Frankfurt am Main or just Frankfurt is the fifth largest city in Germany. It is the largest financial centre in continental Europe, being home to one of the world's largest stock exchanges. A global city that prides itself on being both modern while preserving traditions, Frankfurt is unrivalled in its museums and art galleries.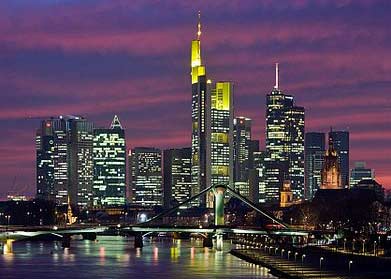 (Photo courtesy of Wikipedia)


3. Frankenmuth
Frankenmuth is on our list of places to visit. It's located only 400 km from where I live! Not in Germany, but in Michigan, USA. A small town (~5,000) it is nicknamed "Little Bavaria" and has "the World's Largest Christmas Store".

Somehow this little town reminds me of Rothenburg and the wonderful Christmas store we visited.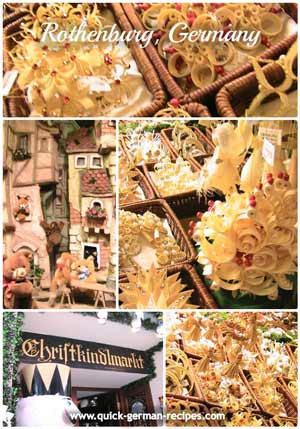 Frankenmuth draws over 3,000,000 tourist every year to its Bavarian shops and restaurants.

When you can't get to Germany, and you live in Michigan, USA or Ontario, that's a place to go to and 'pretend' ...


"F" People
Some famous "F" Germans:
Kaspar Faber (1730–1784), founded Faber-Castell
Daniel Gabriel Fahrenheit (1686–1736), physicist, engineer, glass blower
Werner Forssmann (1854-1915), scientist
Joseph von Fraunhofer (1787–1826), physicist
Gottlob Frege (1848–1925), mathematician and logicist
Caspar David Friedrich (1774–1840), painter
"F" Words
Want to learn some German?

Here are some common ""F words that you can use when you're cooking.
Fasan - pheasant
Fasching - carnival, food and fun just before Lent
Feigen - figs
Feldsalat - field salad
Fenchel - fennel
Fett - fat (butter, lard, margarine, animal fats)
Fisch - fish
Fleisch - meat
Forelle - trout
Frikadelle - meat patty
Früchte - fruit
Frühstück - breakfast
Füllung - stuffing
"F" Foods
1. "Flatladen"
This is the recipe that started my website. It is my alternative to the time-consuming and expensive rouladen. The name? Well, my boys named it since the meat is flat and not rolled!

In fact, if you googled Flatladen back in 2009, there were NO results. The word didn't exist. Now, though, if you google it, you'll find it!

This is my go-to recipe when I need something 'German' that tastes totally 'German' but is so easy to make. Yes, It tastes just like rouladen since all the flavours are there.

Give it a try. You'll like it!


2. Fried Mushrooms
Still planning your Easter dinner? Well, here's a side dish that fits to almost anything. So wonderfully creamy. So wonderfully flavourful. Do make lots ... they go so fast.
3. Fruit Torte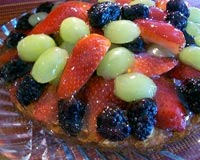 This fruit torte ("Obsttorte") is so delicious with fresh berries and fruit. It's basically a torte base made with ground almonds so that it's gluten free and then covered with a variety of fruits and berries and drizzled with a gelatine glaze.

Easy to make and delicious. This would also be great for your Easter party.

Here's the recipe, just for you!





---
Easter's Coming
Easter comes this weekend. In case you're still deciding what to make, check out my Easter in Germany page. You'll get some ideas what's traditional.


---
What's New at Quick German Recipes
Here are some of the new and/or up-dated recipes that have been added to the Quick German Recipes. I've been redoing some recipes from earlier on, re-photographing them, and making additions as needed, especially including comments from others who have made them.
Just love Potato Dumplings! So traditionally German. They go great with any meal, especially if there's gravy! German Potato Dumplings

A Facebook fan, Gerhild Naggert, sent in her Einfacher Streuselkuchen, an easy crumb cake. I made it the other day and was very impressed. Hubby said it reminded him of oatmeal cookies, and he LOVES oatmeal cookies. I put a layer of apples under the streusel ... delicious! Streusekuchen
I'm still working on those German vegan ideas. If you're interested as well, do check out my friend Alison Andrews' site. Her info and recipes are amazing. If you have any that fit the 'German' site, do send them in.
My friend, Melania, invited me over to try my recipe: Cream Rolls. So delicious was her variation on it. She filled it with buttercream instead of whipped cream. So good ... and she said, "easy!" Cream Roll
Your Turn
Do you have any favorite recipes or photos to share? You can either post them directly to my website at Share your Favorite Recipe or post a picture and any information on our Facebook Fan Page for all the world to see!

Any questions? Just ask!
---
That's it for now. I hope you're following all the news on my Facebook Fan page as well.

Tschüss and guten Appetit,
Gerhild Fulson



*German National Tourist Board Website
---
If you received this email forwarded from a friend, why not sign-up for your own monthly copy of Quick Fix?


---