Quick Fix Recipes
Germany - All Things "E"
Hallo,
"E" is our letter this month as we travel through our series on Germany from "A" to "Z".
We're checking out some "E" places in Germany, meeting some "E" people, learning some "E" words, and most importantly, featuring some "E" recipes!
And not only that, but an "E" holiday is coming. Easter is almost here and we'll be starting to get ready for that as well.
"E" Places
We're going to 3 places, starting with "E", 2 of which are in the TOP 100 sights and attractions in Germany according to the 2013 survey from the German National Tourist Board* and 1 which is very special to me.
1. Europa-Park
Europa-Park in Rust is number 2 on the Top 100 list AND it's Germany's number 1 theme park! Situated in south-west Germany between Offenburg and Freiburg, this is the biggest theme park in Germany.

With its Silver Star roller-coaster, the largest in Europe, to flight simulators, 4D cinema, ice revues, high-adrenaline rides, European-themed areas, parks, and so much more, this is the place to surely come again and again.

All that said, I can't believe I've missed visiting this park. It SHALL be on our to-do list next time we're in the area. Anyone coming with me?
Food? Well, there are themed restaurants to delight any tastes. And what's more? You can come anytime of the year. This place is open year-round!

(Photo courtesy of Wikipedia)


2. Eltz Castle
Can't believe I haven't seen this castle yet! We have seen so many on our trips in Germany, but this one has escaped our view. I wonder if it's because it's in a secluded valley, nestled in the hills surrounded on three sides by the Elzbach River near the city of Koblenz.

What's so special about this castle? Well, it's one of the few castles in Europe that is still lived in by the branch of the same family that has lived there since the 12th century.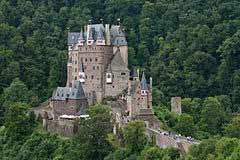 Filled with wonderful historical furnishings, exceptional ornate architecture, and a marvellous treasury, there are also restaurants to replenish one's energy after enjoying the walking trails surrounding this authentic medieval castle.

I'll add this to our to-do list as well!

(Photo courtesy of Wikipedia)


3. Ehrlenbach
Especially since the first 2 places were ones I haven't been to (yet), I wanted to include 1 that I've seen. Ehrlenbach is a very special place. Why? Because it's home to a very special couple, friends of ours, people we visit every time we travel to Germany.

And in reality, that's what makes a place special. The people.

And the fantastic scenery!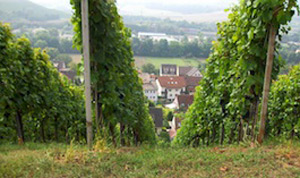 Located Baden-Württemberg in southern Germany, Erlenbach is surrounded by vineyards growing along the slopes of the Kayberg, which is also a great place to go hiking.

Stopping to sample some of the grapes, stopping to catch one's breath, or just stopping to gaze out at the view, this really is wonderful place to "stop and smell the roses!"

And, I love that the bakery is so close by. And the butcher.

Germany, I'm ready to come for a visit RIGHT NOW!


"E" People
Some famous "E" Germans:
Albert Einstein (1879–1955), physicist
Paul Ehrlich (1854-1915), scientist
Ludwig Eisbett (1913-2003) inventor of Elsbett Engine
Joseph von Eichendorff (1788–1857), poet
Hanns Eisler (1898–1962), composer
Egon Eiermann (1904–1970), architect and designer
"E" Words
Want to learn some German?

Here are some common "E" words that you can use when you're cooking.
Eier - eggs
Eierkuchen - pancakes
Eintopf - "one pot" usually with vegetables and meat
Eis - ice cream
Endivien - endive
Ente - duck
Erbsen - peas
Erdbeeren - strawberries
Erdnüsse - peanuts
Essen - food
Essig - vinegar
Esslöffel - tablespoon
Estragon - tarragon
"E" Foods
1. "Endivien untereinander"
This unusual endive recipe is a traditional dish in the Ruhr region of Germany.

Sent in by one of our readers, Nicole Niemietz, it's so perfect for this time of year.

With Spring just around the corner (at least in my part of the world), this veggie will soon be making its way to the market.

Bookmark this recipe so you'll have it to try when you see the first heads of curly endive or frisée available.

If you have any regional recipes you'd like to share with us, please do send them in. I'd love to try them and include them as well. Just send me a message.


2. "Eier in Senfsosse"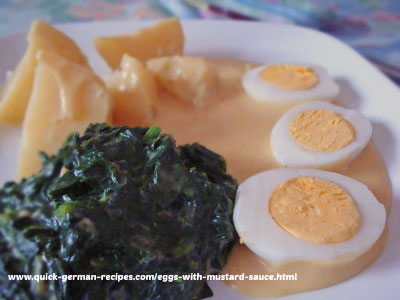 Eggs with Mustard Sauce, that's what it says above. This is especially traditional in Bavaria. An easy and quick lunch, served in this case with boiled potatoes and creamed spinach.

It's a really nice change from the usual meat, potatoes, and veggies that can be made in under 30 minutes. Give this a try!

You'll want to bookmark this recipe because with Easter on its way, you'll probably have lots of hard-boiled eggs to use. :)


3. "Ente"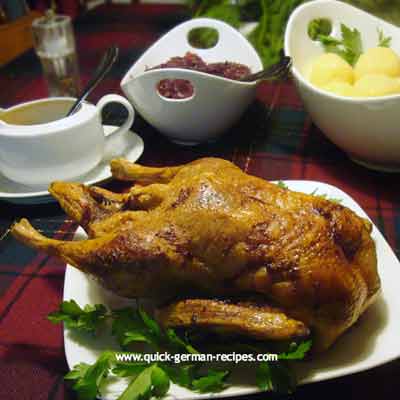 "Ente" or duck is a traditional holiday feast! With very little work, it goes into the oven and you have time to make all the trimmings. For me, that's potato dumplings and red cabbage.

There's one really needful thing to know when you're making a duck. A duck doesn't have too much meat. The 4 pound duck shown above served 3 of us with some leftovers. But, did we FEAST! Here's the recipe, just for you!





---
Easter's Coming
Just another month and Easter is here! To help you plan what to do and what to make, check out my Easter in Germany page. You'll get some ideas what's traditional.

One thing you can start with now is 'blowing' out some eggs to make your 'egg tree'. Such a pretty Spring-time tradition.

My next edition will focus on Easter ... but, for now, you can start getting ready.


---
What's New at Quick German Recipes
Here are some of the new and/or up-dated recipes that have been added to the Quick German Recipes.
We had our granddaughter, Lydia, over to celebrate her birthday. Part of this celebration includes, besides the shopping trip, is to make a special family dinner. Here she is, making Hähnchenrouladen AKA chicken cordon bleu. What fun it is to be an OMA!

Need something a bit different for breakfast? Try my Grilled Grapefruit. Such an old recipe, but so simple and good.
I'm still working on those German vegan ideas. If you're interested as well, do check out my friend Alison Andrews' site. Her info and recipes are amazing. If you have any that fit the 'German' site, do send them in.
I've been remaking a lot of the recipes I posted years ago. Taking better photos and adding extra hints as I go along. It's fun and delicious being reminded of some of the classic, traditional German dishes. I encourage you to try something you haven't made for a long time, or to try something new.
Your Turn
Do you have any favorite recipes or photos to share? You can either post them directly to my website at Share your Favorite Recipe or post a picture and any information on our Facebook Fan Page for all the world to see!

Any questions? Just ask!
---
That's it for now. I hope you're following all the news on my Facebook Fan page as well.

Tschüss and guten Appetit,
Gerhild Fulson



*German National Tourist Board Website
---
If you received this email forwarded from a friend, why not sign-up for your own monthly copy of Quick Fix?


---