Quick Fix Recipes
Germany - All Things "D"
Hallo,
"D" is our letter this month as we travel through our series on Germany from "A" to "Z".
We're checking out some "D" places in Germany, meeting some "D" people, learning some "D" words, and most importantly, featuring some "D" recipes!
And not only that, but it's Valentine's Day on Friday! And, we'll need to make something special, just for that too!
"D" Places
We're going to 3 places, starting with "D", that are in the TOP 100 sights and attractions in Germany according to the 2013 survey from the German National Tourist Board*.
1. Dresden
If any place is going to be called 'world famous', then the baroque city of Dresden should be it. Located in Saxony on the western bank of the Elbe near the Czech border, this city is a political, cultural, economic, and educational centre of Germany, a city of history and heritage.
The landmarks are almost too many to list: Zwinger Palace, Church of Our Lady, Semper Opera House, Royal Palace, Brühl Terrace, Garden City of Hellerau, Elbe Palaces, Hofkirche, Augustbrücke, Green Vault, Dresden State Art Collections, ... and, in fact, Dresden has 13,000 listed cultural monuments!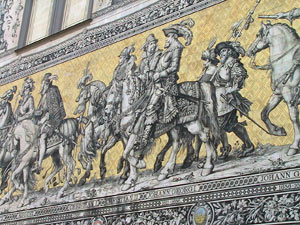 The first food that comes to mind when thinking about Dresden is Stollen. We all make our own versions of it. Mine is a version called Quarkstollen. But the real Christstollen is ONLY produced in Dresden.

And, the BEST place to buy it is at the 600-year old Striezelmarkt, Germany's oldest Christmas market.


2. Deutsches Eck (Koblenz)
Translated, Deutsches Eck means 'German Corner' and almost sounds like a German bar! In reality, it's a little piece of land that juts out where the Moselle and Rhine rivers come together in the city of Koblenz.

Named after the Teutonic Order of Knights (1216 AD), this area is part of the Upper Middle Rhine Valley UNESCO World Heritage sites.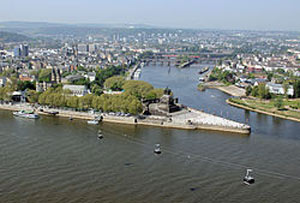 A monument to Kaiser Wilhelm I to commemorate the unification of the German Empire was first built here. Dedicated in 1897, destroyed in 1945, declared a memorial to German unity in 1953 and reconstructed in 1993, this giant equestrian (37m) statue together with a national flag and the flags of the 16 federal states of Germany, and three concrete parts of the Berlin Wall attract millions of visitors yearly. (Photo courtesy of Wikipedia)


3. Düsseldorf
All right, ladies (and gentlemen), so much for history and culture! It's time to go shopping! And there's no better place that Düsseldorf, the fashion capital of Germany! In fact, it's here that the fashion industry decides what's going to be big next season.

With more than 800 showrooms filled with the latest international designer and couture creations, Düsseldorf is filled with the finer things in life. There's the Königsallee, Schadowstrasse, and Carlstadt ... antique shops, boutiques, shopping arcades, ... theatres, concerts halls ... parks and gardens.

So, if you want to be in style, visit Düsseldorf on your next visit to Germany. And the food? Well, Düsseldorf is home to Europe's third largest Japanese community, so you may find some fusion cooking on the menu. Below, though, there's Düsseldorfer pork chops -- oh, so WUNDERBAR!




"D" People
Some famous "D" Germans:
Marlene Dietrich (1901-1992) actress
Rudolf Diesel (1858–1913), inventor of the Diesel engine
Albrecht Dürer (1471–1528) painter
Gottlieb Daimler (1834–1900) inventor and engineer, founder of Daimler-Benz
Adolf Dassler (1900–1978) founder of sportswear company Adidas
Rudolf Dassler (1898–1974), founder of sportswear company PUMA
"D" Words
Want to learn some German?

Here are some common "D" words that you can use when you're cooking.
Datteln - dates
Deutsches Beefsteak - hamburger
Dill - dill
Dorsch - cod
durchgebraten - well done (regarding meat)
"D" Foods
1. Dibbelabbes
This dish is a favourite from the Saarland region of Germany, a region where potatoes thrive. It's a type of potato gratin that's cooked in the oven in a Dibbe, a cast-iron dish.

And the recipe? Well, it's right here, just for you, my Quick Fix readers ...

Ingredients:
2 pounds potatoes, peeled and coarsely grated
2 onions, grated
2 tbsp olive oil
1/4 pound diced smoked meat
1 leek, cut into thin rings
1 egg
salt, pepper, nutmeg
Instructions:
Preheat oven to 400 F. Grease a casserole dish.
Put the potatoes into a clean dish towel, wrap, and squeeze to remove as much moisture as possible. Mix together with the onion.
In a large saucepan, heat the oil. Add the meat and leeks. Cook until leeks are softened. Add the potato/onion mixture. Stir. Stir in the egg.
Season with salt, pepper, and nutmeg.
Place mixture into casserole dish, cover, and bake for about 45 minutes.
Remove cover and continue baking for about 15 minutes or until top is golden brown and crispy.
Serves 4
2. Dumplings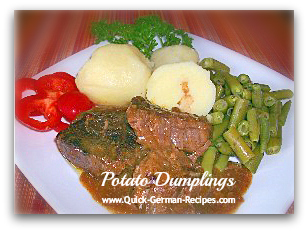 Dumplings! Dumplings! and more Dumplings!

Germany is known for its dumplings. Dumplings made with almost anything: bread, potatoes, bone marrow, etc., and even, blood!

My favourites are potato. Here's one that I really enjoy, Potato Dumplings, but if you're from the Bavarian region, this is your favourite: Bread Dumplings


3. Düsseldorfer Pork Chops
Oh, my, these pork chops are absolutely WUNDERBAR!

What makes them different that regular German breaded chops? Mustard!

Traditional to the Düsseldorf area, these chops use mustard and flour as the coating. It gives a crispy and tasty crust to this traditional dish.

Want the recipe? Check it out here.



---
What's New at Quick German Recipes
Here are some of the new and/or up-dated recipes that have been added to the Quick German Recipes.
It's Valentine's Day on the 14th! Are you ready? This is one of those non-German German holidays - a day for lovers to celebrate. A day for flowers. A day for chocolates. A day for something special. If you're still deciding what to do, here are some Valentine's ideas.



On my sister site, Quick Soup Recipes, I've posted a soup, that surely sounds German, since it uses kale and sausages. Check out my Kale and Sausage Soup. I think you'll like it.
I've also posted Oma's Cream of Celery Soup there.
As you may have noticed, I'm trying to incorporate some vegan recipes (to the delight of some family and friends>) If you're interested as well, do check out my friend Alison Andrews' site. Her info and recipes are amazing.
As well, do check out Share your Favorite Recipe or post a picture and any information on our Facebook Fan Page for all the world to see!

Any questions? Just ask!

---

That's it for now. I hope you're following all the news on my Facebook Fan page as well.

Tschüss and guten Appetit,
Gerhild Fulson



*German National Tourist Board Website

---

If you received this email forwarded from a friend, why not sign-up for your own monthly copy of Quick Fix?



---