Quick Fix Recipes
Germany - All Things "C"
Hallo,
"C" is our letter this month as we travel through our series on Germany from "A" to "Z".
We're checking out some "C" places in Germany, meeting some "C" people, learning some "C" words, and most importantly, featuring some "C" recipes!
"C" Places
We're going to 3 places, starting with "C", that are in the TOP 100 sights and attractions in Germany according to the 2013 survey from the German National Tourist Board*.
1. Cologne Cathedral
Join the more than 6,000,000 tourists that yearly visit the Cologne Cathedral with the tallest dual spires in the world. Climb up the spiral stone staircase (509 steps!) and you too can view the beautiful city of Cologne (Köln) and the Rhine River.

Cologne Cathedral, a UNESCO World Heritage Site, was started in 1248 AD and was finally finished in 1880 AD. Filled with many treasures and relics, it is a draw for pilgrims and tourists alike. In fact, it made #3 on that Top 100 sights and attractions list.

Don't forget to look way up at the bells when you are there. Among the eleven bells, you'll see the 24-ton St. Peter's Bell which is the largest free-swinging bell in the world.

Yes, Cologne is truly worth a visit!
Above is one of the many photos we took when we visited there in 2006. I always stand amazed at the intricate stonework. Definitely going back here again!


2. Charlottenburg Palace
A little further down the list, in position #48, is the Charlottenburg Palace in Berlin. Built at the end of the 17th century and during the 18th century, it was a gift from Friedrich III, Elector of Brandenburg, to his wife, Sophie Charlotte.

Although very heavily damaged during the Second World War, it has been rebuilt to its former condition as has the garden, which was restored to its previous baroque style.

When you, along with millions of other visitors, visit the palace, you will see many of the treasures, crown jewels, and porcelains that have survived the centuries. AND, make sure you stop by and enjoy a Kaffee and Kuchen in the former Orangery!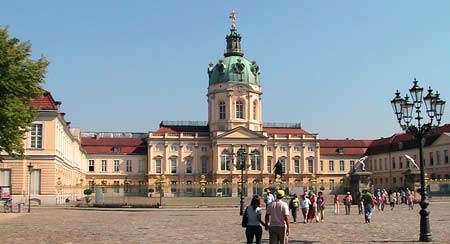 This was such a beautiful place to visit on that 2006 trip. Going back here as well for that Kaffee and Kuchen!


3. Checkpoint Charlie
While you are still in Berlin, you can go to another famous "C" on the Top 100 list!

Checkpoint Charlie, also called Checkpoint C, was the world's most famous border crossing within a city. This crossing point, between East Berlin and West Berlin during the Cold War, was active for 28 years, ending with the fall of the Berlin Wall on November 9, 1989.

The course of the wall and the border is now marked by a line of cobblestones down the street. A replica of the first guard house stands behind a sandbag barrier, a place where you can have your picture taken, as you reflect on the history that has transpired there, in Berlin.

And somehow this reminds of President J. F. Kennedy and his famous, or infamous, often quoted comment, "Ich bin ein Berliner." Without going into the debate over this, it also reminds me of the Berliner, the famous jelly donut that goes by that name.

Food and Berlin. They just go together!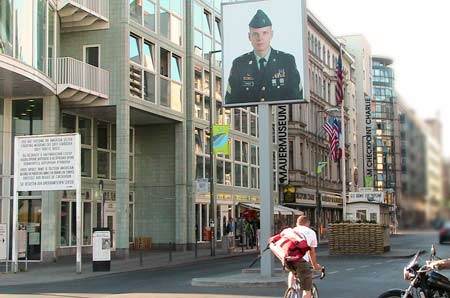 I know, I know. I didn't stand in front of the guard house to get my picture taken. Actually, hubby took this one, while I was getting a photo of the cobblestone line on the sidewalk, both of us being careful not to be hit by traffic.

There's just so much to see and do when 'touristing'!


"C" People
Some famous "C" Germans:
Georg Cantor (1845-1918) mathematician (set theory)
Carl von Clausewitz (1780-1831) father of modern military theory
Nicolaus Copernicus (1473-1543) (Prussian) astronomer
Manfred Curry (1899-1953) Olympic yachtsman, developed cam cleat
"C" Words
Want to learn some German?

Here are some common "C" words that you can use when you're cooking.
Champagner - champagne
Champignon - mushroom
Chef - chief, head, boss, chef
Christstollen - Christmas Stollen (yeast bread)
Creme - cream
Currywurst - curried sausage
"C" Foods
1. Currywurst
I've been in Canada since 1950, so I thought for sure my friend, Heidi, was fooling me in suggesting this was German. Curry? No way was this German, or so I thought! That is, until I did some research and found out the following:
Currywurst is one of the most famous street foods in Germany.
It was invented by Herta Heuwer in Berlin in 1949.
It is estimated that 800,000,000 Currywursts are eaten every year in Germany.
In 2009, the Volkswagen plant in Wolfsburg, Germany, produced 3,500,000 Currywursts in its own butchery, selling half to its employees!
You'll find an easy recipe for making the Curryketchup needed for this in my newsletter "Berlin".


2. Cream Roll (Cremerolle)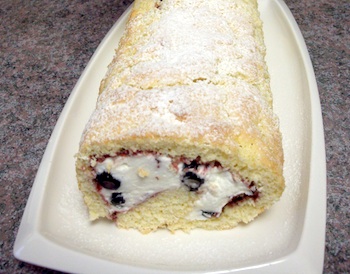 This cream roll recipe (Cremerolle or Biskuitrolle) is made just like a jelly roll only it's filled with whipped cream and fresh fruit. Oh, so German. Oh, so delicious! AND, oh, so quick and easy!

Pictured above is a Blueberry & Cream-filled one that my granddaughter, Lydia, help me make when she was only 9 years old. It was one of those fun Oma-moments!

Here's the recipe we used to make this.


3. Champignonsuppe (Mushroom Soup)
That last time I visited my Mutti (just before she died), she served a fabulous mushroom soup. I was very touched that she would go through all that work just for me (she hadn't been feeling well). And then she shared her secret and here it is: canned soup and "fried" canned mushroom pieces! WOW!

I had always loved mushroom soup. Now though, whenever I have this, I think of Mutti and how much she has influenced me, and not just in the kitchen.

Do make it a point to share your own special recipes with your children and grandchildren. I hear from so many of my readers asking for recipes that their Mutti or Oma took to the grave with them. So sad.

Here's the one from my Mutti: Homemade Cream of Mushroom Soup - the easy way!


4. Currymayonnaise
Talking about Berlin and curry, here's a special recipe, just for you, my Quick Fix Recipes subscribers: Currymayonnaise. This goes great with grilled meat and is such an unusual, yet easy to make condiment.

Ingredients:
1/2 cup mayonnaise
2 tsp canned evaporated milk (cream would work)
1 tsp curry powder
1 tsp red currant jelly
1/4 tsp lemon juice (or to taste)
pinch sugar
Instructions:
Mix the mayonnaise and canned milk (or cream) together.
Stir in the curry powder and currant jelly and continue stirring until evenly coloured and well mixed.
Add the lemon juice and sugar to taste.
Serve with grilled meats.
My hubby just reminded me of the word Libbymilch. It's actually a brand name (Libby's Milch) for this "Dosenmilch" ("canned milk"). And that reminded me of my Mutti again.
She'd always have this in her coffee. And when she ran out, I'd be sent to the corner store to buy some more Libbymilch. I'd buy Carnation Evaporated Milk, which was her favourite brand of Libbymilch. It wasn't until I went to Germany many, many years later, that I realized Libbymilch is a brand name and not the generic word for canned evaporated milk.

---
What's New at Quick German Recipes
Here are some of the new and/or up-dated recipes that have been added to the Quick German Recipes.

Your Turn
Do you have any favorite recipes or photos to share? You can either post them directly to my website at Share your Favorite Recipe or post a picture and any information on our Facebook Fan Page for all the world to see!

Any questions? Just ask!
---
That's it for now. I hope you're following all the news on my Facebook Fan page as well.

Tschüss and guten Appetit,
Gerhild Fulson



*German National Tourist Board Website
---
If you received this email forwarded from a friend, why not sign-up for your own monthly copy of Quick Fix?


---