Quick Fix Recipes
Germany - All Things "B"
Hallo,
My new series on Germany from "A" to "Z" continues this month and features the letter "B." As well, we are celebrating Christmas German-style!
Let's start by checking out some "B" places in Germany, meeting some "B" people, learning some "B" words, and most importantly, featuring some "B" recipes!
"B" Places
We're going to 3 places, starting with "B", that are in the TOP 100 sights and attractions in Germany according to the 2013 survey from the German National Tourist Board*. The first place has my picture with it. The last place has a famous recipe with it. And the middle one, well, it's a place you need to go to for New Year's!
1. Bremen
Bremen, in northwestern Germany, is the tenth largest city in the country. It made the TOP 100 list because of the UNESCO World Heritage town hall and Sir Roland, a 33 ft tall 'statue of liberty' that is the tallest free-standing sculpture from the German Middle Ages. (Check out this Wikipedia article if you'd like to see Sir Roland.)

Above, I'm rubbing the front hooves (like so many others have done before me) of the Town Musicians of Bremen statue from the folktale by the Brothers Grimm.

Foods associated with Bremen? The main ones include potatoes and kale. One of my favourites that has both is made by mixing kale and mashed potatoes together, a clever and delicious way to get kids to eat their greens.


2. Berlin and the Brandenburg Gate
Called a world city of distinction, Berlin is filled with an incredible array of sights, with the most famous landmark being the Brandenburg Gate.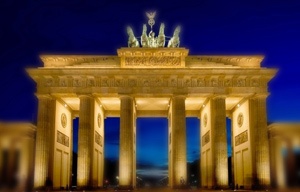 Built in 1789 with the famous four-horse chariot depicting Victoria, the goddess of victory, on the top, it was made inaccessible by the Berlin Wall in 1961.

It later became a symbol of German reunification after the fall of the Wall and is now the site for the world's biggest open-air New Year's Eve party.

If you're in the area, come and Join the over one million people with all-night dancing, entertainment, laser and light animations, mega-fireworks, food, food, and more food on Dec. 31st.

One of the most famous street foods in Germany is Currywurst which was invented by Herta Heuwer in Berlin in 1949. This icon of popular German culture is so easy to make at home. There's a recipe for this is in my newlsetter "Berlin".


3. Black Forest
Bordering the Rhine valley in the south western part of Germany, the Black Forest has almost 2 million acres of nature reserves that surround some of Germany's highest hills and famous towns such as Freiburg and Baden-Baden. This is most definitely a tour worth taking.

Tourists seek out several things in particular in this area: beautifully hand-carved cuckoo clocks, delicious Black Forest ham, and of course, the traditional Black Forest cake.

Black Forest cake is so easy to make at home. Below, it's shown as a birthday cake with my son, Rich, my granddaughter, Alana, and me. So easy to make. So easy to enjoy!
"B" People
Some famous "B" Germans:
Johann Sebastian Back (1685-1750) composer
Ludwig van Beethoven (1770-1827) composer
Johannes Brahms (1833-1897) composer
Dietrich Bonhoeffer (1906-1945) theologian
Friedrich Bayer (1825-1880) founder of Bayer, chemical & pharmaceutical company
Karl Benz (1844-1929) inventor of gasoline-powered automobile, co-founder of Mercedes-Benz
Ralph Baer (1922-) inventor of first home video game console
Hans Beck (1929-2009) inventor of Playmobil
Wernher von Braun (1912-1977) lead development of Saturn V which put man on the moon
"B" Words
Want to learn some German?

Here are some common "B" words that you can use when you're cooking.
Bäckerei - bakery
Basilikum - basil
Beilagen - side dishes
Birne - pear
Blumenkohl - cauliflower
Bohnen - beans
Bohnenkraut - (literally 'bean herb') -summer savory
Braten - roast
Brezel - pretzel
Brot - bread
Brötchen - rolls or buns
Butter - butter
"B" Foods
1. Black Forest Cake
Originally from the Black Forest area of Germany, this has really become synonymous with Germany. When you have time, make it in the traditional way. However, I've got a very easy version as well that uses a cake mix, cherry pie filling, and whipping cream.

When they are decorated, they look the same!


2. Bethmännchen Cookies
Bethmännchen cookies are among the great traditional German Christmas cookies. These cookies were originally created to honour Theobald von Bethmann-Hollweg who was the Chancellor of the German Empire in the early 1900's.

If you like marzipan, you'll love these cookies, because that's one of the main ingredients. Then, to decorate, there are three almond halves on top. Why three? Because the Chancellor had three sons.

Here's the recipe I use to make these.


3. Bombe
Why this is called a Bombe, I don't know. It's what my Mutti called it and she only made it for Christmas. To me, it's like a chocolate lebkuchen (or gingerbread) covered in chocolate glaze. It's fairly quick to make and seems to get better the longer it sits.

Ingredients:
1 1/3 cup granulated sugar
1 cup honey
1/2 cup butter
5 eggs
1/2 cup cocoa powder
1 package Lebkuchen spice (see below)
3/4 cup currants
3/4 cup candied lemon peel
3/4 cup slivered almonds
4 tbsp rum
5 cups all-purpose flour
3 tsp baking powder
1/2 cup semi-sweet chocolate chips
1/2 cup whipping cream
Instructions:
Grease and flour a bundt pan. Preheat oven to 350 F.
Put the sugar, honey, and butter into a saucepan and heat until sugar is melted. Let cool.
In a large mixing bowl, beat eggs until frothy. Mix in the cocoa and lebkuchen spice.
Stir in the currants, lemon peel, almonds, and rum. Stir in the honey mixture.
Mix the flour and baking powder together and add to the dough. Thoroughly mix everything together.
Spoon into prepared bundt pan. Bake for 60 - 70 minutes or until a wooden pick inserted into the centre comes out clean.
Let cool in pan on a wire rack for about 10 minutes before turning out onto wire rack to finish cooling.
For the glaze, put the chocolate chips into a bowl. Heat the whipping cream in a small saucepan just until it come to a simmer. Pour the hot whipping cream over the chocolate chips and let sit for 5 minutes. Stir well. Let sit a further 10 minutes. Brush glaze over cold cake. This will take several hours to harden.
If you don't have access to Lebkuchen spice, you can make your own by mixing together the following ground spices and adding this to the recipe.
Lebkuchen Spice Mixture
1 tbsp cinnamon
1 tsp cloves
1/4 tsp each mace, coriander, cardamon, ginger
1/8 tsp nutmeg
This quantity is equal to one package of Lebkuchen Spice Mixture.


What's New at Quick German Recipes
Here are some of the new and/or up-dated recipes that have been added to the Quick German Recipes.

Your Turn
Do you have any favorite recipes or photos to share? You can either post them directly to my website at Share your Favorite Recipe or post a picture and any information on our Facebook Fan Page for all the world to see!

Any questions? Just ask!
---
That's it for now. I hope you're following all the news on my Facebook Fan page as well.

Tschüss and guten Appetit,
Gerhild Fulson



*German National Tourist Board Website
---
If you received this email forwarded from a friend, why not sign-up for your own monthly copy of Quick Fix?


---