Quick Fix Recipes
Germany - All Things "A"
Hallo,
My new series on Germany from "A" to "Z" starts this month and features the letter "A".
I'll focus on seeing some "A" places in Germany, meeting some "A" people, learning some "A" words, and most importantly, featuring some "A" recipes!
"A" Places
There are 3 places, starting with "A", that made it to the TOP 100 sights and attractions in Germany according to the 2013 survey from the German National Tourist Board*. One of these places is even tied to one of our recipes.
1. Allianz Arena
The picture on the right (thanks to Wikipedia) shows the Allianz Arena in the northern part of Munich. Seating over 69,900, it is the first stadium in the world that can change its outside color!

Can you imagine cruising down the Autobahn at 200 kph and suddenly, out of the corner of your eye, the arena changes from white to brilliant red? Or are you just enjoying the thought of cruising at 200 kph?

This is considered one of Europe's most modern and beautiful stadiums; definitely worth a visit, if you are in the area.

2. Alpine Road
The German Alpine Road takes you for 450 km through the Bavarian Alps, from Lindau on Lake Constance to Berchtesgaden on Lake Königssee.

You'll be amazed at the absolutely spectacular scenery that you'll drive through.

The picture on the right? Well, that's my husband and me at a horticultural showcase on Mainau Island in Lake Constance. It's a MUST SEE on the tour!

Travel along the rest of this German Alpine Road and you'll also discover 21 mountain lakes, 25 castles, abbeys, and palaces, and more than 60 spas.
3. Aachen and its Cathedral
Aachen is close to the border with the Netherlands and Belgium. Walking through the historic Aachen streets, you'll come across the Aachener Dom or the Aachen Cathedral, a UNESCO World Heritage Site.

What started as an imperial palace chapel in 800 AD became the first cathedral in northern Europe known as the "Royal Church of St. Mary at Aachen", a masterpiece of architecture with both Carolingian-Romanesque and Gothic influences.

AND, the tie-in to food? Well, it has to be Aachener Printen. These are a special type of Lebkuchen which were thought to possess medical benefits. You'll find the recipe for making your own Aachener Printen below!


"A" People
Some famous "A" Germans:
Albrecht Altdorfer (1480-1538) painter, engraver, architect
Alois Alzheimer (1864-1915) psychiatrist, neuropathologist
Konrad Adenauer (1876-1967) statesman, soya sausage inventor
Manfred von Ardenne (1907-1997) physicist
"A" Words
Want to learn some German?

Here are some common "A" words that you can use when you're cooking.
Abendbrot - (literally 'evening bread') supper
Abendessen - (literally 'evening food') dinner
Ananas - pineapple
Apfel - apple
Apfelsine - orange (the fruit, not the colour)
Auflauf - casserole
'auf Wiedersehen' - (literally 'on seeing again') - 'Good Bye'
There's also a very interesting "A" phrase: "A mal Pi mal Auge."
I first heard this from my German friend, Heidi. She comes from the northern part of Germany and it may be that this is only used there. In other parts of Germany, the expression is "Pi mal Daumen" and means that something is roughly estimated or calculated.
"Auge" is translated as "eye" and "Daumen" is translated as thumb. I can see why in the kitchen, Heidi says by the "eye". It's like me saying that I use "a bit of this and a bit of that."
So, when someone asks you for a recipe that's in your head only, just say you make it "A mal Pi mal Auge!"
"A" Foods
1. Apfelschorle
Apfelschorle, made with apple juice and carbonated mineral water, is one of the most popular drinks in Germany. Easy to make at home and commercially available throughout Germany. Make yours following this easy recipe.


2. Aachener Printen
Here's a translated recipe that comes from my old and falling apart cookbook "Das neue große Kochbuch" by Gööck. These Christmas cookies are a type of Lebkuchen (similar to gingerbread) that originate from Aachen since the 15th century. Originally, these had an imprint or an engraving on them, but are now also found just as rectangles often covered with sugar crystals or nuts, with a chocolate or sugar glaze.

They were originally sweetened with honey, but are now made with a sugar beet syrup. The actual spice mixture is a well guarded secret; it includes cinnamon, aniseed, cloves, cardamon, coriander, allspice, and ginger. Using a purchased Lebkuchen spice mixture will give a similar taste.

Please note that this is NOT a quick recipe.

Ingredients:
¾ cup syrup
½ cup sugar
3 tsp Lebkuchengewürz
pinch salt
½ cup candied lemon/orange peel
5 cups flour, all-purpose
5 tsp baking powder
Glaze (optional)
2 cups icing sugar
3 - 4 tbsp water
Instructions:
Mix together the syrup and sugar in a small pot.
Place over medium heat and keep stirring until the sugar has melted. Remove from heat and let cool.
Stir in spices and candied peel.
Sift together flour and baking powder into a large bowl. Mix in the syrup mixture. Knead dough together. Add a bit of milk if necessary if dough is too thick.
Place dough into a bowl, covered with plastic wrap. Place in a cool place for 2 - 3 days. On a floured surface, roll out dough to about ¼ inch thickness. Cut into rectangles, about 1 inch x 3 inches.
Place onto greased and floured cookie sheets, about 2 inches apart.
If desired, thin a bit of syrup with water and brush cookies with this.
Bake at 360 F. for about 20 minutes.
If desired, mix together icing sugar and sufficient water to make a glaze. Brush on cooled cookies.
3. Apfelkuchen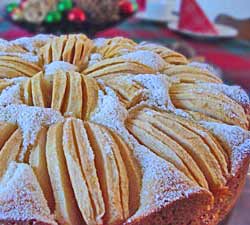 Above is one of my all-time favourite cakes to make, especially when company is coming and I don't have much time to make something. It looks so pretty. It tastes so delicious! AND, it's so easy to make.

Why not try this German Apple Cake today?


What's New at Quick German Recipes
Here are some of the new and/or up-dated recipes that have been added to the Quick German Recipes.

Your Turn
Do you have any favorite recipes or photos to share? You can either post them directly to my website at Share your Favorite Recipe or post a picture and any information on our Facebook Fan Page for all the world to see!

Any questions? Just ask!
---
Well, that's if for now. I hope you're following all the news on my Facebook Fan page as well.

Tschüss and guten Appetit,
Gerhild Fulson



*German National Tourist Board Website
---
If you received this email forwarded from a friend, why not sign-up for your own monthly copy of Quick Fix?


---